14-Love! Rafael Nadal Has Proposed To His Long-Term Girlfriend
Tennis ace Rafael Nadel has popped the question to his girlfriend of fourteen years Mery Perelló.
Shhh, can you hear that? That's the sound of hearts breaking around the world.
That's because Spanish tennis star Rafael Nadal is getting married .... and it's not to me or any of you. Instead, he's decided to pop the question to his girlfriend of 14 years Mery Perelló.
Whatever.
READ MORE: This Man Makes His Fiancée With Amnesia Fall In Love With Him Every Day
Spanish-language magazine HOLA! reports that the men's world number two proposed to Perelló -- who is also known as Xisca -- during a romantic trip to Rome last May.
According to the publication, the couple will tie the knot next autumn in Malloca.
Rafael had previously spoken about his plans to have children with Mery, telling HELLO! that he "has the intention of forming a family. I love children and I would like my children to do what they like."
READ MORE: How Often Should You Text In A New Relationship?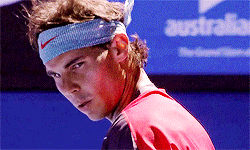 It's already been a big year for Rafael.
He came second at the Australian Open in January, beaten in straight sets by Novak Djokovic. After the loss, he told reporters: "What I need is time, I need work and I need more weeks like this one. That's really the only thing that I hope, is to have the chance to keep practising well and to have the chance to keep playing with healthy conditions. I can't be sad. It would not be fair to be sad. I played against a player that today was better than me."
As with most of his matches, Mery was there cheering Rafael on from the sidelines.
Feature Image: Getty