You Can Name A Cockroach After Your Ex For Valentine's Day So Get In Line
A zoo in the UK is calling on scorned lovers to name a creepy crawly after their ex -- and it's all for a good cause.
The Hemsley Conservation Centre in Kent is running a 'name a cockroach' program in the lead up to the romantic day on February 14.
In an usual yet oddly satisfying move the zoo is encouraging people to "get back at their ex's" -- their words, not ours -- by christening one of their resident cockroaches with said ex's name.
READ MORE: What's The Buzz With Mosquitoes Waking Us Up?
"For those that don't quite require revenge, there's another way to make you feel better about getting back at your ex this Valentine's Day," the zoo wrote on its site.
Hmm ... naming a disgusting insect after an ex-boyfriend/girlfriend/husband/wife does kinda sound like revenge but who are we to judge?
If you're feeling particularly salty about a breakup and decide to go ahead with it you'll not only get the sweet satisfaction of knowing there's a roach named after your ex but you'll also get a little certificate.
Your ex's name won't appear on the official document but -- and here's the kicker -- it will be displayed loud and proud on the zoo's 'roach board' at its cockroach enclosure.
One enthusiastic Facebook user put a call out for someone to post a photo of the board when it goes up on Valentine's Day so everyone can have a good old cackle at their silly idiot ex's.
The zoo themselves commented back, saying that they've got it all under control. Nice.
READ MORE: We Ate Halloween Candy Made From Insects And Now You Can Too
So, how much does this sweet, salty payback cost? Not much -- just $2.70 (that's £1.50) -- making it very affordable if you have a few nasty ex's to name and shame. Hey, again, no judgement.
Your hard-earned, revenge-buying cash will go to a good cause -- to raise money for the zoo's future projects. Presumably, so they can breed more cockroaches for our own personal gain.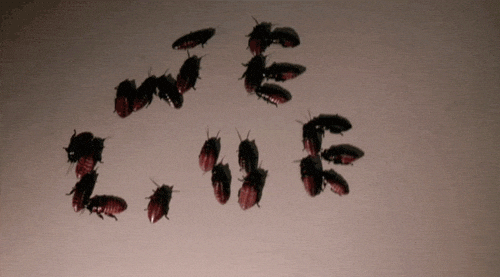 Roaches are hot property at the mo -- the Bronx Zoo in New York and Zoo Boise in Idaho are also running similar programs except this time it's not about heartbreak but love. Yep, you can name a cockroach after your current squeeze.
The incredibly hard-to-kill insect is actually a spot-on symbol of undying love if you think about it.
Feature image: Getty.