All The Weird Things People Have Married... So Far
You can't help who -- or what -- you fall for or so the saying goes and it's never been truer for these brides and grooms who've tied the knot with some unusual spouses.
Take Felicity Kadlec for instance -- the 20-year-old has tied the knot with a zombie doll named Kelly.
Kelly is 37 and has a bloodied face, no eyes and no jaw. But to Kadlec, of Oklahoma in the US, she is "perfect."
Kelly is a "tomboy" according to Kadlec and wore a suit to the ceremony -- her bride wore a white dress and a veil. The pair said 'I do' in front of four humans and eight other dolls.
"Our wedding ceremony was beautiful and perfect -- exactly the way I dreamed it would have been," Kadlec said according to Metro.
I made sure that the whole wedding was done properly so it would be as official as possible, and we consummated the marriage afterwards.
The pair even share matching tattoos -- Kelly has Kadlec's name inked on her forearm and Kadlec has Kelly's.
Kadlec was 13 years old when her father -- who has since passed away -- gifted her the doll although it took a further three years for her to realise that she and Kelly were in love.
Since then Kadlec has "never felt happier" and loves her doll paramour deeply -- despite her gory appearance.
She said, "I married Kelly [...] because I accept her for who she is ... Also her spirit and personality traits made me know that she was the one for me and that I wanted to spend the rest of my life with her."
A duvet
Pascale Sellick is a woman after our own hearts.
The 49-year-old has decided to marry her duvet (or doona for us Aussies) because it has given her "the most intimate and reliable relationship" she's every experienced. Girl, same.
In an interview with SWNS, Sellick fawned over her partner saying the duvet has provided her with "the longest, strongest, most intimate and reliable relationship that I have ever had. That's because it has always been there for me and gives me great hugs."
READ MORE: Why Do Sporting Events Make Us Horny?
Sellick is so proud of her romance that she has issued a public invitation for her wedding, which sounds like a hoot.
I love my duvet so much I would like to invite people to witness my union with the most constant, comforting companion in my life. There will be music and a ceremony; laughs and entertainment.
The dress code sound equally amazing -- with guests urged to turn up wearing dressing gowns, pyjamas, onesies and slippers.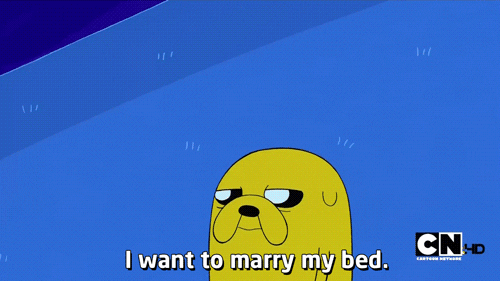 But Sellick certainly isn't the first (nor will she be the last) person to tie the knot with something that isn't a human ... or a living, breathing thing for that matter.
A ghost pirate
Remember Amanda Teague? She's the 46-year-old Northern Ireland woman who decided to marry a 300-year-old ghost pirate, Jack.
The mother-of-five and her soulmate tied the knot in a private ceremony which also featured a medium so that Jack could say 'I Do'. We know.
But their ghost-human union didn't work out with the pair divorcing late last year.
A car
Then there's Edwin Smith. The 68-year-old is a self-described 'mechaphile' -- someone who is sexually attracted to machines -- and has confessed to making love to 999 cars before deciding to commit himself to a VW Beetle.
He first started getting hot under the collar for vehicles at the age of 15 and says he likes to sing to and write poetry for his four-wheeled 'girlfriends.'
READ MORE: Nicki Minaj Says She Has Sex Up To Four Times A Night, But Is That Even Possible?
A game of Tetris
Noorul Mahjabeen Hassan -- or Fractal Tetris Huracan as she likes to be called -- is planning to make the electronic game Tetris her husband.
The 20-year-old identifies as an objectum sexual which means she's attracted to inanimate objects, having had relationships iPods, treadmills, a GPS system and a calculator she named Pierre in the past.
The math student from Florida started getting cosy with the puzzle game in 2016 and admits she sleeps with and enjoys a physical relationship with Tetris-themed objects including Tetris hard drives and cushions.
"I think Tetris is so beautiful, he is about perfection and he stimulates your mind ... I love him so much and get an immense sense of satisfaction with him," she told The Sun.
A chandelier
Amanda Liberty was happily dating her 24 chandeliers when she came across a 90-year-old beauty on eBay -- six days and about $750 later, her mail order bride arrived on her doorstep.
"I couldn't stop thinking about her and how beautiful she was - she has such a beautiful shape, and I could feel really amazing energy coming from her," she told The Sun.
Liberty -- who formally changed her name in 2010 after falling in love with the famous statue in New York -- proposed to Lumiere on Valentine's Day, 2016.
She sleeps with another one of her chandeliers, Jewel, as Lumiere is a bit too fragile for snuggles but she explained that there's no jealousy between her illuminated lovers.
Feature image: Instagram/@felicitykadlecrossi, South West News Service, Amanda Teague via PEOPLE.