Yup, Aussie Weddings Are Getting More Expensive Every Year
For Australian lovebirds, the cost of tying the knot is set to take an even higher toll on their bank balances.
Dreaming of a white wedding? Or just a wedding, white or otherwise? Well, you and your significant other best brace yourselves 'cause it's going to cost a bomb.
The average Aussie wedding rings in at a cheeky $32,333 according to Easy Weddings' 2019 Annual Australian Wedding Industry Report.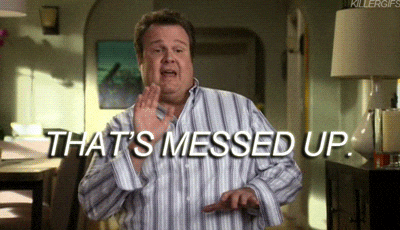 The data, collected from more than 4,000 happy couples, showed that this whopper of a cost is actually a three percent increase on last year.
So yes, saying 'I do' these days is truly expensive, and it's only going to get more so.
It looks like couples might not have realised this yet as the $32k bill is actually about $10,000 above what they originally planned on shelling out. They do say love is blind ...
READ MORE: This Bride Made A Friend Take Out A Loan To Attend Her Wedding
Who foots this monster bill? About 60 percent of couples will get a helping hand from their respective parents, while the remaining 40 percent will shoulder the cost themselves.
A wishing well -- where guests can gift cold hard cash in lieu of presents -- is a feature of 85 percent of weddings. A smart way to recoup some of the wedding fee, no?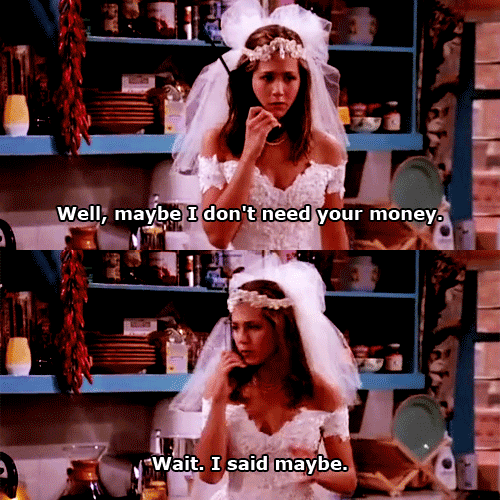 "As with everything, you can put some of the rising costs of a wedding to inflation. But what we are seeing that is more wedding specific is couples choosing quality over quantity," Elise James, director of trends and insights at Easy Weddings told 10 daily.
Couples are spending more in every category when it comes to weddings because they value that professional service and attention to detail.
"They might invite less people to celebrate their day with them, but they're choosing to spend their hard-earned cash on making sure that it's the best celebration it can be," she said.
From the dress to the cake to the photographer we've broken down just how much an average wedding costs -- read on if you dare.
The venue
The average cost of wedding venues across the country has risen by five percent to $15,264, with couples in NSW spending most -- $16,539 -- and those in Tasmania spending least -- $10,722.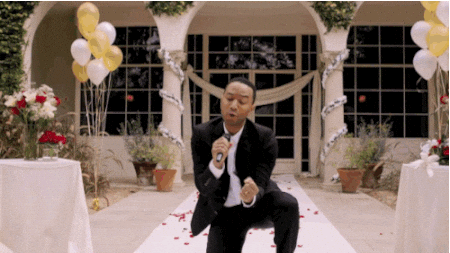 The guests
As James told 10 daily, guest lists are getting even shorter as prices rise. The average guest list is 97 people with 80 of couples inviting less than 150 people. Just under half of couples will invite less than 100.
Ensuring guests are fed, boozed and merry costs on average about $157 per head so it kinda makes sense that 12 percent of couples are saying 'hell no' to plus-ones.
The dress
The average cost of a wedding dress has gone up by four percent to a cool $2,649 -- brides in NSW are spending just a bit more than that ($2,837) while those in the ACT are the thriftiest, spending $1,816.
A quarter of brides would happily blow the budget if they found 'the one' -- their perfect dress, we mean.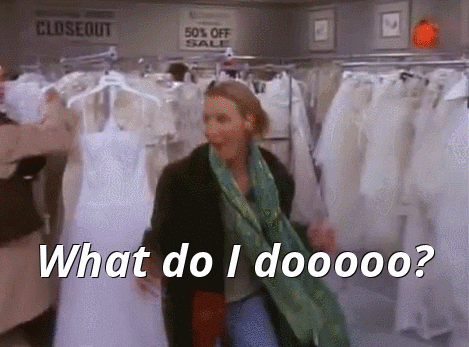 Who opens their wallet to pay for the bridesmaid's dress is often a controversial issue but according to the report just over 80 percent of couples will foot the bill. This is great news for bridesmaids as the average outlay for three dresses (most brides have a trio of bridesmaids) is a whopping $814.
Oh and don't forget bridal makeup -- that's $740 which is up two percent on last year.
READ MORE: This Wedding Featured Puppies Instead Of Flowers And, Yes, We Do
The food
Couples can kiss a $9,666 goodbye on catering for their big day, which is a six percent increase year on year. Caterers in Victoris charge the most -- $11,947 -- while in Queensland they charge the least -- $5,659.
The price of the all-important cake has also risen six percent to $537 -- the most popular type is a chocolate or vanilla mud cake with precisely three tiers.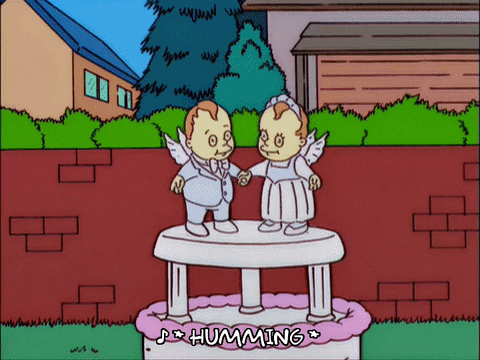 The rest
Take a breath -- we're not done yet. There's still the celebrant who does the 'I do' deed ($721), the videographer ($2,702), the photographer ($2,963) and the music ($1,651.)
Decorations cost an average of $1,529 -- FYI that's an eight percent increase on 2018 -- while flowers are $1,618 which is up five percent. And don't forget your sweet ride to the venue -- wedding cars are up 12 percent to $1,295.
Crying yet? You will be -- once the wedding is over and done with there's the honeymoon where you can kiss goodbye to a further $7,307.
Meet you at the altar!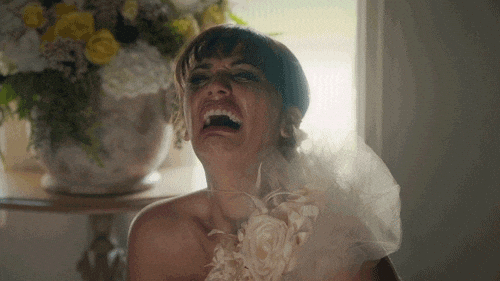 Feature image: Riley Turner Productions.