Vibrators, Swings and Smartphones: How We'll Be Having Sex In 2019
Giddy up.
We've packed away the Christmas decorations and made our New Year's Resolutions and we're raring to go for 2019. And yes, we're vowing to make the new year a good one… in every way, including in the bedroom.
Look, we're not the only ones, so don't make that face at us.
You see, according to the experts, it seems we're all at it -- or want to be. And for 2019, we're keen to use all sorts of things to spice up our lives.
READ MORE: Why So Many People Are 'Revenge Cheating' On Their Partners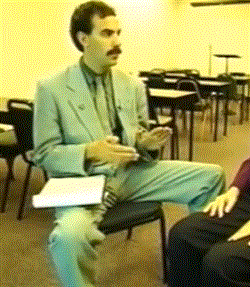 "In 2019 more of us will be willing to share our bed – with toys, that is," said Vanessa Rose of naughty toy company Wild Secrets. "Couples will be more open to using sex toys together -- for example, wearable women's vibrators like the WeVibe.
"Women's toys harnessing the power of suction technology have been a game changer – and brands like Satisfyer and Womanizer will continue to perform well as more women discover newer releases which combine suction and vibration or turn off when taken off the body for total discretion."
"In the men's category," she continued, "masturbators such as Fleshlight, will remain best-sellers as more adult starlets lend their sought-after bodies to moulding the realistically textured sleeves." Yes, adult stars are actually having sex toys made in the shape of their body parts. The world is a weird and wonderful place.
READ MORE: 13 Things To Never Say (Or Do) On A First Date
And that isn't all.
For the more adventurous among us, there's a growing range of electrosex toys that use electricity to stimulate sensitive areas -- certain to bring a real spark to our sex lives.
"In Australia, we seem to follow many of the wider global trends, and we suspect it's likely we'll see more interest in these products with electric stimulation and further integration of smartphone technology. Products for trans and non-binary folk are also becoming more readily available, so we're likely to see a lot of interest in that too. For those interested in tech, virtual reality and talking toys will also perform well, combining visual and physical stimulation for a more immersive experience.
"Swings and harnesses are continuing to grow in popularity, so I wouldn't be surprised if this trend carries on over to sex furniture. This is furniture ergonomically designed to assist with otherwise hard-to-reach positions."
That may sound a little, well, dental, but all it really means is that we're going to enjoy getting it on in 2019, right?
Yes, says Belinda Ryan, also from Wild Secrets. "Couples are becoming more adventurous in how they're having sex. They're getting kinkier with role play and there's definitely more awareness for how women in particular experience sex, and what their partners can do to make sure that all parties have the best time possible. Following the 50 Shades franchise, partners actually talking about their desires or kinks is becoming more commonplace too, which is great too."
READ MORE: Do Condoms Make Men Lose Their Erections?
But don't worry if you're single, we don't have to be in relationships to have a lot of fun. These days, it seems solo sex is just as good.
"Australia is still very conservative compared to other places in the world, but attitudes are definitely changing," Ryan told 10 daily. "There's less stigma around being a single person these days, so it makes sense that people are more interested in how they can lead a fulfilling solo lifestyle in all aspects. Younger people have been reported to be having less sex than ever before -- which directly relates to self-satisfaction, and of course, increased sale of toys for solo use."
Feature Image: Getty