Sarah Marie Reveals Bizarre Pregnancy Cravings During 'Gogglebox Australia'
There's a reason you might see a little less of Sarah-Marie Fahd on this season of 'Gogglebox Australia' -- and for good reason.
The fan favourite is pregnant with her first child with husband Matty, which has meant a little bit of a change in the way they watch TV shows with their pal, Jad.
"We've only just started filming but we've had to miss a couple of shoots so, if you don't see us all that much and you want to know why, it's because Sarah's gotten the flu," Matty explained to 10 daily.
"Which is something she'd normally be able to power through but given she's got no immune system at the moment, she got absolutely hammered and couldn't get out of bed," the soon-to-be dad explained.
But there's another, very relatable reason why you might not see Sarah-Marie sitting on the couch with the couple's bulldog, Bane.
"I just keep going to the kitchen because I keep getting hungry," she laughed.
READ MORE: The 'Gogglebox Australia' Segment That Had Everyone In Tears
Sarah Marie revealed that while her tastes have recently changed and she's craving more "fresh, healthy food" things were a little different a couple of months ago.
"Poor Matty, he hated having to deal with it, but I was craving pickled onions," she told 10 daily.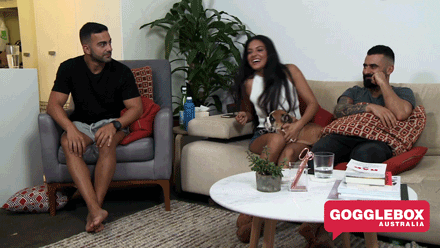 "So I would go through a phase where I would eat maybe three or four pickled onions and then stink of onions," she laughed.
And if that wasn't enough of a pungent odour to deal with, she topped it off with Australia's favourite yeasty spread.
READ MORE: Gogglebox Australia: How Matty And Sarah Marie's Bulldog Has Stepped Up During Their Pregnancy
"And Vegemite! Onions and Vegemite on toast, that was all I could eat. So that was a random mix," Sarah-Marie said.
Matty added that he wasn't exactly a fan of his wife's midnight feasts, especially when she'd come back to bed reeking of pickled onion.
"At midnight!" he exclaimed, almost incredulous that anyone could be eating that combo so late at night (or at all).
"And then she would come back to bed and I'd feel like I was sleeping with a dead body," he said.
We're going to be keeping our eyes peeled for Sarah's pregnancy snacks on the next 'Gogglebox'!