'A Rather Odd Generation': Why The Tide Is Turning Against Gender Reveal Celebrations
Over the past decade, gender reveal parties have been widely embraced but public opinion is beginning to shift as the gimmicks and stunts get bigger, more dangerous and in some cases, against the law.
Pink or blue? Boy or girl? Revered or reviled?
One thing is for sure, gender reveals are dominating social media threads.
But this week, the woman credited for inspiring the baby celebration a decade ago has done an about face when it comes to these events.
American mother Jenna Karvunidis -- whose gender reveal party was the first to go viral in 2008 -- now wants the concept scrapped.
"It just exploded into crazy after that. Literally -- guns firing, forest fires, more emphasis on gender than has ever been necessary for a baby," she wrote on Facebook.
To say the growth of gender reveal parties has spread like fire is not hyperbolic. Late last year, a US border patrol agent's gender reveal party accidentally ignited a 47,000-acre wildfire in Arizona.
READ MORE: Gender Reveal Burnout Sees Car Set Alight
READ MORE: The Gender Reveal Party That Sparked A Wildfire
Back home, a Gold Coast man caused serious fire damage to a car while doing a burnout gender reveal in April last year.
Using a cake or balloon to reveal the sex of the baby used to be all the rage. But not anymore, according to a leading custom-cake creator and party shop owner.
"I'd say we've had the biggest surge in requests for gender reveal cakes from 2016-2018," Buttercreme Lane's Daniella Boutros told 10 daily.
"This year was a surprise, although cakes are still ordered to celebrate the reveal, clients are getting more creative and extravagant with how they are finding out the gender of their baby, a cake alone just doesn't cut it any more," she said.
Kelly Mitchell from Candy Bar Sydney says their most popular gender reveal product is a black balloon with coloured confetti inside, according to the gender of the baby.
"We had one instance where the balloon popped going into the car - no one knew the gender except for us as we'd been given the envelope.
Luckily the mother was looking the other way but all her friends were covered in pink confetti," she told 10 daily.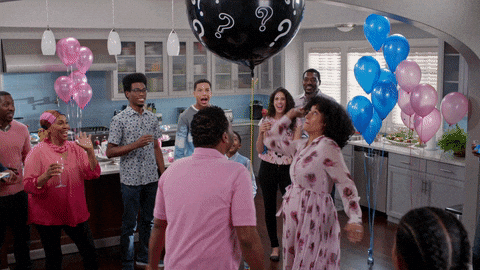 While the growth in gender reveal celebrations is good for business, Mitchell and Boutros are divided as to what it says about society.
"I welcome the rise in popularity, while it's excellent for business, it's also just in the spirit of fun," she said.
Boutros believes it's more about a craving for love and emotion and social media is merely the accelerant.
"I feel we are in a rather odd generation. It's all about your best life on Instagram. I feel people are going over the top and spending money they may not have to spend to keep up with posts and likes," she said.
Dr Sarah Casey from the School of Creative Industries at University of the Sunshine Coast says they have become another "commercialised ritual."
"We see the normalisation of what was once private become increasingly public, too. Gender reveal parties are part of this trend, and while good intentions may not be stereotyping from birth, it's hard to avoid in society where gendered stereotypes are pervasive," she told 10 daily.
READ MORE: Gender Reveal Stunt Goes Horribly Wrong, Almost Kills Two Power Rangers
READ MORE: Gender Reveal Lasagnas Are Here To Ruin Your Day
A Melbourne-based gender and cultural studies expert says biological sex and gender identity are not perfectly correlated.
"I think gender reveal parties are wildly outdated and it's interesting that they have become popular. I think that reveals something," Dr Hannah McCann, Lecturer in Cultural Studies at the University of Melbourne, said.
"Perhaps it's a backlash against changing gender norms."
She said the colours and symbols used (like tiaras for girls and cowboy boots for boys) works against what feminism has achieved, and these celebrations limit personalities based on anatomical sex.
"It reveals a cultural obsession with gender before anyone has had a chance to come into the world, and it reveals this rigid systems of expectations," she said.
But aren't these parties and social media moments just a bit of fun for an excited parent-to-be?
"I don't think we should be encouraging them in any way," McCann said.
"People might want to defend it as a lighthearted think but I think the costs outweigh any positives you could come up with."
The costs are easy to measure for some.
The American man who accidentally started an enormous fire and the Aussie man whose car burst into flames have been hit with a big bill. ($8 million in compensation for the former and a $1000 fine and loss of license for the latter).
READ MORE: Superfans Are Throwing Game Of Thrones Gender-Reveal Parties
As for the mum who helped inspired a generation of picture-prefect gender reveal moments, Karvunidis says she wishes she knew then what she knows now.
"Who cares what gender the baby is?
Part of what helped her come to this realisation was that her own daughter, arguably the original gender reveal baby, started to identify as non-binary.
"Assigning focus on gender at birth leaves out so much of their potential and talents that have nothing to do with what's between their legs," she said.
Contact the author alattouf@networkten.com.au