What I've Learned During My Own 'Dancing With The Stars' Journey
Next week I'll be competing in a charity fundraiser dance competition called 'Stars of the Beaches', which aims to raise money for the Cancer Council NSW. I'm not a dancer, but here's what I've figured out along the way.
As the main point of coverage for the latest season of 'Dancing With The Stars' earlier this year, I was lucky enough to chat to a bunch of the celebs who competed in the competition to raise money for charity.
They'd explain the reasoning behind getting involved -- mostly to raise funds for a cause close to their hearts -- but there was a common theme throughout the various interviews. As I spoke to these stars during the middle of their six-week training schedule for their debut dances; they all told me how it was an experience like no other, and while challenging, it was so much FUN.
"It's been a battle -- linking your brain to your body is harder than it looks -- but I have been touched by the love of dance," loveable chef Miguel Maestro told me at the time. "I'm nearly 40 and I feel as if I'm discovering a different part of myself -- like I've discovered a whole new layer to myself!"
Meanwhile, winner Samuel Johnson -- who had competed for his late sister Connie -- told me, "I had been offered it in the past but never took it on. After Connie passed away, I thought, 'Why not?' and it's been the best thing I ever did."
"She would have loved the chance to do it herself so she would have definitely been trying to hide her jealousy!" he laughed.
When my friend asked if I'd be interested in joining the 2019 competition for 'Stars of the Beaches' -- a charity dance fundraiser and gala dinner run by the Cancer Council NSW -- I jumped at the opportunity, despite every fibre of my anxiety-riddled being wanting to decline.
Thinking about what the 'DWTS' stars told me about their own experiences, how they were so glad to get involved in a once-in-a-lifetime opportunity, that it could mean a huge prize for their chosen charity, plus my new year's resolution that I would try things outside my comfort zone -- I took on the opportunity.
Here are all the things I've learned throughout eight weeks of training -- and if you'd like to donate towards my fundraising efforts, you can do so here.
Dancing is HARD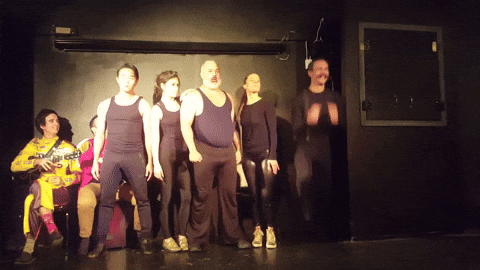 Basically, each competitor was awarded a genre of dance -- mine being contemporary. At first I was like, "Cool! I get to run around in bare feet and a jumper and can just make up sh*t if I forget the moves."
How wrong I was!!! Turns out, there's a lot more to contemporary dance than flailing your arms about and acting out emotions in the music. Who knew??
Breaking down each tiny move in my choreography has been insanely difficult, especially since the last time I did anything dance-related was when I was a competitive cheerleader at university.
And the post-workout soreness!! My God, the soreness! To all the dancers out there, I tip my hat to you -- and I should probably exercise more.
Things won't always go to plan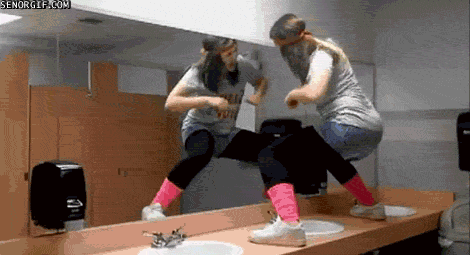 As the old adage goes, "If you want to make God laugh, tell him about your plans" -- and how true that is! In fact, just yesterday, my dance partner and teacher informed me that he would no longer be able to compete in our performance -- eight days out. He received a once in a lifetime opportunity, which means he's had to pull out of the show completely.
While I'm super happy for him (go Andrew!) it means I'll now be learning the rest of my routine with someone else completely, which is fine, since I'm sure they're just as amazing as my former partner -- but I just don't want them to rock up to our next practice and be like, "Jesus Christ who put me with this two-left-footed lump of no-talent???" (there's that anxiety again!).
But it's more important to just have fun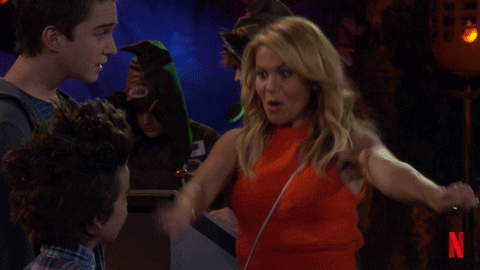 I won't lie, I'm absolutely sh*tting myself about performing in front of 300 people next week, ESPECIALLY since I'm incredibly accident prone. For example, I have broken my leg running down a driveway in heels, smashed my front teeth out during laser tag, and just the other month, I was jumping on a bed and fell, crashing face first into a bedside table and developing a lovely purple, swollen face.
In saying that, I keep reminding myself that it's all for a good cause -- to raise money for Cancer Council NSW and their world-class cancer research in the hope that one day we can find a cure to a disease which affects the lives of so many people every single day.
In fact, statistics say that one in every two Australians will be diagnosed with cancer by the age of 85 -- that's insane, and as Sam Johnson once told me, "We need to keep kicking cancer in the face hole. It's got to go. It's absolute nonsense".
If those struggling with cancer -- or those with family or friends affected by cancer -- can push through their struggles every single day, then it would be silly of me not to make a spectacle of myself for just one night for a good cause, right?
If you'd like to contribute to my fundraising efforts, you can do so here. All money raised will go to Cancer Council NSW. Every dollar counts!