The 'MasterChef' Menus Fit For A Queen: What The Royals Have Dined On In Australia
It's Nigella Week on 'MasterChef' and the British domestic goddess has brought a little inspiration from home, with a royal challenge that has sent our contestants digging into the archives of the Victorian state library.
Sure, it's only the third week of the competition but Nigella and the judges seem to think our contestants are more than ready to start dishing up meals that were once consumed by actual royalty.
Tonight, they'll be taking inspiration from two very important state dinners held during royal visits to Australia. Prince Edward of Wales' trip down under in 1920, and Queen Elizabeth II's mammoth tour back in 1954.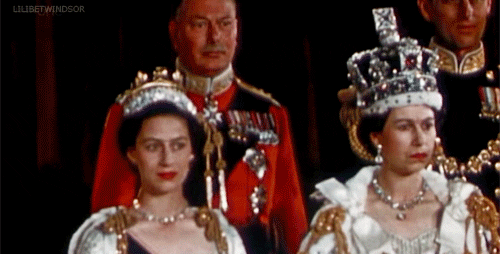 The historic menus feature some pretty wild dishes, including, er, turtle consomme, which has thankfully gone out of fashion in the last half-century.
We decided to take a delicious look backwards at what some of the royals have been tucking into during official trips to Australia and then dip into our own ~archives~ to see how we'd 'MasterChef' them up a bit.
The Duke And Duchess of York Visit Australia in 1927
Queen Elizabeth's parents visited Australia all the way back in 1927 -- a few years before her dad became King George VI -- and they were treated to some extremely lavish meals. The menus are mostly written in French -- a royal tradition that stemmed from France's position as the centre of the culinary world in the 19th century, ooh la la!
Here's what the Duke and Duchess were eating in NSW on April 4 in 1927:
Hors D'oeuvres Varies: Various finger foods to begin the sumptuous feast.
Potage Queue de Kangarou: A thick soup made of kangaroo tail, a delicious way to honour one of our national animals?
Paupiettes de Merlan, Maitre d'Hotel: Stuffed whiting prepared by the 'master of the house'.
Suprême de Volaille aux Truffes, Pointes d' Asperges: Chicken supreme with truffles, served with asparagus tips.
Baba au Rhum: Rum baba! Little yeast cakes soaked in syrupy rum, made famous in Paris in the 1830s.
Bombe Vanille: Similar to the Bombe Alaska our contestants re-created for Darren Purchese last week -- ice cream encased in meringue, doused in rum and set alight.
How We'd 'MasterChef' It Up
Digging into our own 'MasterChef' archives, we'd pick George Calombaris' whiting with roast cucumber, Emma Dean's Kangaroo and Kale and Gary Mehigan's Rum Baba, easy!
An Official Luncheon For Queen Elizabeth in 1954
The Queen sailed into Sydney harbour on Feb 3rd 1954 and was eating this light spring-time menu the very next day. The lunch featured a fruit cocktail, spring chicken, iced asparagus tips and a strawberry meringue dessert.
How we'd add that 'MasterChef' flair to a 1950s spread?
We'd whip up either Tim Bone's pan-fried chicken with tarragon butter or Curtis Stone's whole roasted chook with asparagus and then Jess Hall's epic pavlova with vanilla cream and smoked plums for dessert.
READ MORE:The Grimmest Meals We're Eating During 'MasterChef'
READ MORE: Nigella Lawson Reveals The One Ingredient She Can't Stand
An Adelaide Banquet For The Prince Of Wales
Prince Edward was Queen Elizabeth's uncle, and also the man that abdicated the throne so he could marry divorcée Wallis Simpson. Let's see what he was eating during his trip to Adelaide in 1927!
Google translate tells us that he enjoyed some oysters in their natural state, a tasty vegetable medley broth, some very excellent whiting, sweetbreads, beef fillet with mushrooms and asparagus with butter.
The very fancy dessert menu included a 'Charlotte Russe', a rich cake popular in 18th century Europe made with mousse, cream, berries and a ring of sponge fingers, and glacé Nesselrode, a luscious ice cream made with chestnut purée and brandy.
Please sit back and marvel at the ways we would 'MasterChef' this menu right up.
Remember Trent Harvey from Season 9? Honestly, it's been a while and we can't exactly place him but he did make this seared beef fillet with smoked beurre rouge, crispy kale and roast beetroots fit for a prince.
And for dessert, we'd make chestnuts the hero of our dish with Laura Cassai's chestnut forest with espresso mousse and almond meal crumb.
MasterChef Australia airs Sunday to Thursday nights at 7.30pm. Only On 10 And WIN Network. Missed an episode? Catch up on 10 Play or 10 All Access!