Prince George Has A New Nickname And You Don't Have To Be A Genius To Work It Out
The cute little royal is even more totally adorable when you hear what mum and dad call him.
There were reports not long ago in The Sun newspaper that Prince George had a cute nickname that he didn't mind telling people.
Apparently, the five-year-old told a stranger that his preferred name is Archie -- with many people mystified as to whether he chose it for himself or if mum and dad bestowed it upon him.
READ MORE: Weird Royal Nicknames You've Probably Never Heard Of Before
The Duke and Duchess of Cambridge's son was out with his grandmother Carole Middleton and sister Princess Charlotte when a dog walker came across him near the Middleton family home in Berkshire.
The woman told the newspaper: "I was asked by a police minder not to take a photo of the children, which I didn't, but George started stroking my dog. Just to be friendly I engaged in a bit of small talk and I asked George what his name was, even though obviously I knew it.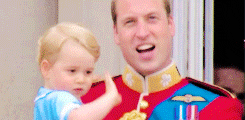 "To my astonishment, he said 'I'm called Archie' with a big smile on his face. I don't know why he calls himself Archie but kids often play with their names and I think it's lovely."
But now Vanity Fair has revealed a little more about his life at school, and in the Kate Nicholl-penned report it states that "George is really happy at school, [and] his nickname is P.G." according to another parent.
Get it? Prince George: P.G.
READ MORE: Prince Louis' Official Christening Photos Are Here And They're Adorable
It's not rocket science but it's pretty adorbs.
"He's very popular and has lots of friends, and there's very little fuss made about who he is," Katie continued.
The Sun added that at school he is indeed known as P.G. -- and his parents then started calling him PG Tips or just "Tips" after the British brand of tea.
So that is very cute.
Sister Princess Charlotte also has a fabulous nickname -- reports from a tour to Northern Ireland in March quote Kate Middleton as telling a blogger that they call her "Lottie". Which is just adorable, too.
Kate stopped to chat with a blogger named Laura-Anne, who has two sons -- two-year-old George and four-year-old Bertie -- the same age as Princess Charlotte. When Laura-Anne told Kate his age, the blogger recalled the Duchess saying, "Oh, he's the same age as Lottie."
Stop with the cuteness. No word as to what Prince Louis's nickname is, but given that pre-Lottie, Archie or P.G, we thought both George and Charlotte went by "Poppet", we can safely assume it's that.
Feature image: Getty.