Do Easter Eggs Really Taste Different To Other Chocolate?
We'll spend $210 million on Easter eggs this year, but why is it we think their taste is so specific?
Here's a number that could blow your mind, research from IBISWorld says that consumer spending on chocolate is expected to exceed $210 million this Easter.
That's a sh** tonne of eggs, my friends.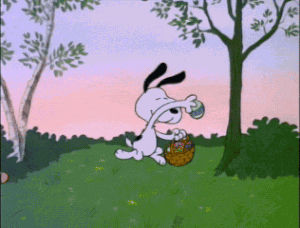 According to the research, premium chocolate varieties, such as Lindt and Haigh's, are big news, with growing 'premiumisation' trends (their word not ours) expected to lead to an increasing portion of Easter chocolate sales being on premium chocolate brands and speciality chocolate stores.
Of course, though, the majority of chocolate bought by Australian consumers this Easter is anticipated to be from the major supermarkets, which include Coles, Woolworths and Aldi.
We just love our chocolate, right? We don't care where we get it.
Well yes and no. Another study, this time by Canstar, revealed families will on average spend $237 on Easter eggs, food and alcohol over the long weekend, while singles are budgeting far less at $128 for the same expenses. Aussies generally will spend an average of $99 on food, $41 on alcohol and $42 on Easter eggs this year!
Yes, $42 seems a lot on Easter eggs. But we have to make up that $210 million somehow.
But Easter eggs can be divisive. After all, there is often a suggestion that Easter chocolate tastes different to regular chocolate.
10 daily's very own chocaholics are split on the subject -- some pointing out that the flood of cheaper eggs descending on supermarkets are not the same as the chocolate we get all year round.
"If you're talking about the cheapy thin chocolate hollow eggs from supermarkets, yeah for sure, it's actually a different kind of chocolate to normal blocks of chocolate," said one reporter.
"There is a VERY PARTICULAR CHOCOLATE they use for certain things like eggs and advent calendars that taste like chalk which is awful but because this chocolate only pops up at times like holidays our brains have a Pavlovian response thinking that it's not as terrible and sawdusty as it is," said another, who then qualified his statement with this:
"Also this is for the like no-frills brand-less eggs not fancy ones like Kit Kats or Dairy Milk or something."
Good point.
READ MORE: Chocolatiers Explain Why We Love Easter So Much
Others love that there is something special about egg-shaped goodies.
"Easter eggs definitely taste different to regular chocolate -- there's something special about the egg shape and the colour of the foil wrapping and the Easter-ness of it all," said a chirpily positive Lifestyle reporter.
Cadbury told us that they're often told even their eggs taste different to their other products. They say there could be a reason why we think this -- and it's nothing to do with using different recipes:
"We believe it is a different 'eat' compared to a chocolate block because it's a different shape, the chocolate is thinner and people eat Easter products differently to the way they consume blocks," said a spokesperson.
"Other theories include, the fact that we can't buy Easter eggs all year round, so perhaps we feel like it is a special treat, it comes in extra-special wrapping, or perhaps the excitement and enthusiasm that people feel about this special time of year, influences their enjoyment of Easter chocolate?"
Good point, Cadbury.
Incidentally -- Cadbury is also responsible for the Red Tulip Elegant Rabbit which has its own special Easter thang going on, right?
READ MORE: Arnott's Make Old Fave Biccies Into Chocolate Blocks
"The brand has its own distinct packaging design, recipe and ingredients that Red Tulip lovers tell us evokes happy childhood Easter memories," agreed Cadbury.
Aldi's reply to our questioning pointed out that they have two distinct tiers -- and we're guessing, tastes -- when it comes to their Easter treats.
"For this year's Easter range," they told us, "we have worked with a number of our existing Australian business partners on products including a select range of our Dairy Fine bunnies, eggs and egg crates.
"We have sourced some of our more decadent treats that feature ingredients such as Belgian chocolate, including our Specially Selected Luxury Half Egg and Choceur Premium Decorated Rabbit, straight from Europe."
READ MORE: How Do You Like Your Easter Buns?
STRAIGHT. FROM. EUROPE! Hold that thought, we're off to buy bigger pants.
Haigh's though, then came along and threw us a curve ball.
"As far as Haigh's goes our most popular product for Easter is our Easter Eggs and chocolate Bilbies (we do not sell bunnies or rabbits – just Bilbies)," said a spokesperson. Who then blew our minds with this: "Our recipe for our Easter milk chocolate is changed a little from our standard milk chocolate, however our dark chocolate is the same recipe."
Now we don't know what to think. Just go with what you like, right?
Final word on the taste difference goes to another couple of 10 daily staff members.
"The extra ingredient is happiness," said one romantic fool.
"It's true, they do taste different," said another, "and I'm sure Jesus has something to do with it."
Enjoy.
Feature image: Getty