Yoga With Lemurs Is The Latest -- And Cutest -- Way To Get Zen
In this day and age, we're all about combining our passions.
Take, for instance, kombucha and skincare.
Or, shopping and drinking -- oh and shopping and Instagram.
Then there's shopping, drinking and Instagram. Okay -- you get the idea.
So it comes as no surprise that combining a love of cute animals -- goats, bunnies, llamas et al -- with the ancient Indian practice of yoga has gained traction in the past few years.
Now we have lemur yoga -- or 'lemoga' -- to add to the list.
READ MORE: How Old Mascara Wands Are Helping Save Injured Wildlife
It's all thanks to Armathwaite Hall Hotel and Spa in North West England's popular holiday spot the Lake District.
The hotel is handily positioned right next to the Lake District Wildlife Park where the lemurs call home.
Lemurs, by the way, are small primates native to the island of Madagascar. With their long tails and love of trees, lemurs look and behave like monkeys and apes but actually evolved separately.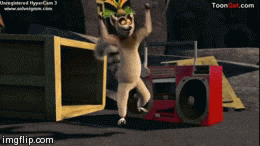 They're typically friendly and inquisitive and seem to have the Dandasana pose -- that's legs crossed with hands resting on knees for yoga novices -- down pat.
We wonder what their downward dog is like, though ...
Lemoga organisers claim the class will reduce stress, lower blood pressure and make you laugh which we don't doubt one bit.
"Lemoga offers our guests the chance to feel at one with nature, at the same time joining in with the lemurs' play time," Carolyn Graves, owner of Armathwaite Hall said according to Metro.
The experience is part of the hotel's 'meet the wildlife' wellness program which also includes walking with alpacas and meeting meerkats.
If you can't make it over to the UK for some lemoga, we've rounded up some alternatives.
READ MORE: Chris Hemsworth's Bonkers Workout Is Inspired By Aussie Animals
Goat yoga
Along with the goats at Possum Valley Animal Sanctuary in Mount Helena, WA, yogis can also get up close and personal with llama and lambs.
Bunny yoga
Hop on down for a yoga class at Rabbit Run-Away Orphanage in Melbourne, Victoria -- we promise you'll have a bunny ... er, we mean funny time.
Wine yoga
Sure, they don't have cute and fluffy animals but Canberra's Hotel Kurrajong does have the next best thing -- wine. Refill, anyone?
Feature image: Getty.