Move Over Kids: The Viral Cheese Challenge Has Now Hit Dogs -- Literally
The latest viral challenge -- throwing a slice of cheese in an unexpecting youngster's face -- has evolved to target man's best friend.
The bizarre trend all started when Twitter user @UncleHxlmes uploaded a video with the caption, "just cheesed my lil brother".
The footage -- which has since been deleted -- showed him creeping up to the little dude and flinging a square slice what looks to be prepackaged cheese in his confused, chubby face.
Soon, people all around the world had taken up the #cheesechallenge and poor, trusting infants everywhere started copping slices from all directions.
READ MORE: Why Are People Throwing Cheese Slices At Their Babies?
But cheese-covered babies have had their time in the sun, it seems. It's time to make room for fur babies instead.
Yup -- dogs are now copping a faceful of fromage, and the results are going off online.
"Arrrrr me hearties, look at my cheese patch!" -- this dog, probably.
This slice was defying gravity.
"Is it ... is it on my face?"
*shouts* IT'S BEHIND YOU.
Some pooches were more agile, snapping up the piece of dairy in one fell swoop.
Challenge. Accepted.
Nothing gets past this doggo.
Even cats aren't safe from a wayward slice of Swiss.
Look, we're not here to judge but throwing cheese at your babies -- human, furry or otherwise -- is probably not the best idea.
Plus, why waste a perfectly good slice when there are cheese toasties waiting to be made?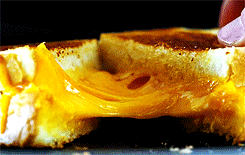 Feature image: Instagram/@demon_the_cutie, Instagram/@atlas.aries.aussies, Instagram/@winstanthappiness.