Here's How Much A 5 Bedroom House With A Sex Dungeon Will Cost You
A large family home in a sleepy U.S. suburb has gone on the market -- and it has a fully-equipped sex dungeon to boot.
The brick Colonial-style residence is located just 24 kms outside of Philadelphia in the tranquil-sounding suburb of Maple Glen.
The realtor's advertisement boasts that it's a "one of a kind surburban home" with a price tag of $1 million (U.S. $750 000).
For that pretty penny, you'll be the proud owner of a stylishly furnished home with ...
... five cosy bedrooms and ...
... a gorgeous kitchen -- so spacious!
There's a pretty swanky games room. Anyone for pool?
READ MORE: Why Do Sporting Events Make Us Horny?
And sweet his 'n hers sinks in the bathroom. Awww!
Imagine relaxing in this gorgeous lounge room.
You can even keep fit in the on-site gym.
Or perhaps your idea of working up a sweat looks more like this ...
Yes, friends -- what you are looking at is a bona fide sex dungeon.
A fully functioning X-rated paradise that even Mr Christian Grey would be proud of.
According to realtor Melissa Leonard, the erotic furniture -- sex swing and all -- is included in the listing price.
Which is such a relief -- who wants to cart the contents of their sex dungeon around every time they move??
READ MORE: Nicki Minaj Says She Has Sex Up To Four Times A Night, But Is That Even Possible?
You'd never have guessed the kink-fest tucked inside this charming three-storey property, right? The front door is red, however -- a subtle nod to the infamous red room in Fifty Shades of Grey?
Leonard told BuzzFeed News that it's a "Total suburban beautiful home -- but the twist is it has this sex oasis in the basement."
A sex oasis? Brilliant.
According to Leonard, the male owner of the home lived there with his family for years until his wife passed away. He then relocated to Philadelphia and -- wait for it -- has been renting the place out via Airbnb for the past few months.
We're not able to find the ad on Airbnb however BuzzFeed News reports it was titled "Maison XS - Just Be You" and included photos of the "underground adult room" with moody lighting. It was listed for just over $1,000 a night -- excluding the highly justified $350 cleaning fee. Ewww ...
Maple Glen, where the home/sex oasis is located, is home to less than 10,000 residents and the home itself only has two other neighbours. We wonder how well insulated the 'basement' is.
Leonard said that she was initially unsure what the neighbourinoos reckoned about living next door to an S&M lover's dream home -- or if they knew about it at all.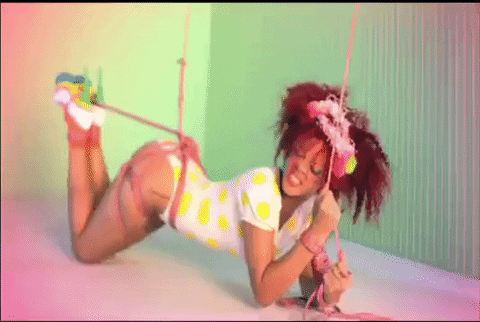 Well, sounds like the cat is out of the proverbial bag 'cause while on a phone interview with Slate, Leonard was interrupted by a disgruntled neighbour.
The man was overheard saying, "We're very upset about this whole thing. We do not want something like this in our neighbourhood. Take that off the internet. That's disgusting. We don't want that."
Leonard, ever the professional, tried to tell the man that the listing -- and the pictures -- were necessary to make the sale.
He replied, "People are all over the neighbourhood and they're all saying they're here to see the sex house!"
We guess word of a good sex house travels fast.
Feature image: Bright MLS