'Straya Is A Nation Of Huggers So Says New Research
The average Aussie gives six hugs per day according to the study which comes just in time for International Hugging Day.
The study -- commissioned by kids TV show Hey Duggee which airs on Foxtel's CBeebies channel -- revealed that Australians love nothing more than wrapping their arms around their loved ones.
Of the 500 people surveyed, a solid 86 percent reported either giving or receiving a hug every single day.
For one-third of the group, their favourite thing about a good old cuddle was that it shows affection and increases bonding, while 15 percent liked the happiness high it offers.
A closer look at the results uncovered who is giving and getting the most hugs in terms of age and gender -- and who might need some extra love.
READ MORE: The Little Boy And The Hug That Melted Hearts Across The World
Who hugs most?
The research showed that families and couples are doing most of the heavy lifting when it comes to hugging, particularly those aged 25 to 44.
Parents and their kids give and receive the most hugs with 79 percent of mums and dads hugging their little ones every day. Kids are returning the love by giving their parents almost the same amount of hugs back.
That all changes once the kids hit their teenage years as that's when the cuddles start of drop off fairly steeply. Having said that, nine percent of all people surveyed said their favourite hugs came from their parents.
It seems that there's not much better than a hug from either your child or your partner, with 37 percent of people saying that they gave the best hugs.
Guys vs. gals
If you thought there'd be an enormous difference between the sexes when it came to embracing then you'd be wrong.
According to the study, women give on average 4.7 hugs a day and men are not that far behind giving 3.4.
On the flip side, women are getting 3.9 hugs a day while men get an average of three.
About half of the guys and gals surveyed were on board with a hug as a preferred way to greet someone at family gatherings.
That all changes when it comes to a social setting where just 22 percent of blokes will greet their mates with a hug -- over 50 percent prefer a good old handshake.
Half of the women surveyed like to hug it out with their friends, with a kiss on the cheek the next most popular greeting among females.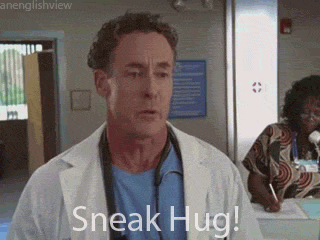 Hugs needed here
If families and young people are hugging the most, then people aged 66 to 75 are hugging the least.
Older Aussies are giving and receiving on average two hugs per day, and say they don't like getting up close and personal with their friends.
Just a quarter of people aged 66 to 75 give their mates a cuddle compared with 53 percent of people aged 18 to 24, and 55 percent of people aged 25 to 34.
Puppy (and kitty) love
One thing's for sure -- Aussies are mad about cuddling their furry friends.
About 90 percent of dog owners and 87 percent of cat owners admitted to giving their pets a squeeze, with single people and parents of older kids doing the most hugging.
No pet? No problem -- over 44 percent of those surveyed admitted to hugging a soft toy for comfort.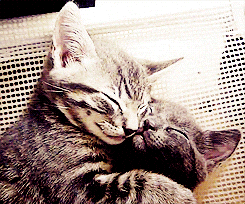 Hugging for health
A cuddle doesn't just make you feel warm and fuzzy -- it can actually improve your health.
Social psychologist Dr Lisa A Williams said, "Individuals who receive more hugs are less likely to catch the common cold and experience interpersonal conflict as less acute. More generally, their relationships overall are happier."
READ MORE: Science Agrees: Hugs Really Do Make You Feel Better
The benefits of hugs include improved cardiovascular functioning -- and they promote the release of oxytocin, often called the 'love hormone.'
"While most hugs are three seconds long, there is evidence that longer hugs provide more benefit," said Dr Williams.
Get ready to hold that hug, guys.
Feature Image: Getty