The Official Top Baby Name In NSW Has The Royal Seal Of Approval
She might be fourth in line for the British throne but Princess Charlotte has taken the crown -- for the most popular baby name for girls born in NSW last year.
Almost 500 girls born in NSW last year share their name with the junior royal, according to the annual top 10 baby names list, compiled by the state's Registry of Births, Deaths and Marriages.
The three year old's name was given to 498 girls, beating rival names Amelia and Olivia which took out second and third place -- they were given to 451 and 446 girls respectively.
Neither of Charlotte's brothers' names -- George or Louis -- made the top 10 list for boys.
Georgie won't be happy with that.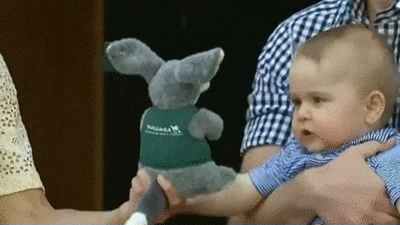 Redhead Prince Harry has cause to be miffed, too, as his name was nudged out of the top 10 by Liam.
While Haz ended up in 12th place his older bro's name, William, was sitting pretty in third place. Awkies!
READ MORE: Short And Sweet Baby Names Set To Be Big In 2019
The top spot was a tie between classical biblical moniker Noah and Oliver -- the two names were given to 321 boys each.
There was a bit of movement further down the list with Lucas jumping four spots to fourth place, followed by Jack, Ethan and Liam.
On the girls' side, Mia edged up one spot to finish fourth on the list, followed by Ava, Isla and Chloe.
Apart from those small shifts, the top 10 names for both boys and girls haven't seen much change over the past decade, according to the Registry.
Even though traditionally Western names were the most popular, there was a pretty large increase in the popularity of Arabic male names Muhammad (which moved from 63rd in 2017 to 24th in 2018) and Ali (64th in 2017 to 41st in 2018). Arabic name Layla, meaning dark beauty is also rising in popularity.
NSW Attorney-General Mark Speakman said "this is reflecting the diversity of our state."
Top girl's names in NSW in 2018
Charlotte
Amelia
Olivia
Mia
Ava
Isla
Chloe
Grace
Harper
Emily
READ MORE: You Won't Adam And Eve Which Baby Name Has Made A Comeback
Top boy's names in NSW in 2018
Noah
Oliver
William
Lucas
Jack
Ethan
Liam
Alexander
Thomas
James
New parents have 60 days to register their newborn's new name, which means some bubs born toward the end of 2018 have yet to be registered.
Keep your eye out for a final list of the top 100 baby names -- it's set to be revealed in April.
Feature image: Getty.