This Brilliant Brussels Sprout Chocolate Prank May Have Just Won Christmas
Here's how it stacks up against festive tomfoolery of Christmases past.
For many people, the festive season is about love, family and good times. For Judy Brown, it's about trickery, lies and deceit.
This Christmas past the Scot successfully duped her poor, unsuspecting father into merrily biting into a Brussels sprout disguised as a Ferrero Rocher.
This tweet is unavailable or no longer exists.
She documented the impressively elaborate ruse -- which involved individually coating the vile vegetables in melted chocolate and the trademark crushed hazelnuts on Twitter for all to see.
It's not the first time her father has fallen prey to his daughter's bitter trick. Brown first pulled off the prank in 2016 but chose to lay low last year to lull her Pa into a false sense of security.
The conniving! The strategy! She's brilliant.
READ MORE: Merry Christmas From These Festive Insta-Famous Pets
This tweet is unavailable or no longer exists.
In 2018 she was back, and ready to roll her dear old dad once again. After carefully preparing the sprouts/choccies, she replaced them in their original container and waited.
When the moment of truth finally arrived, she wasn't disappointed -- there's photo evidence of the half-eaten veggie to prove it.
Well played Miss Brown, well played indeed.
This tweet is unavailable or no longer exists.
Twitter has praised Brown's "outstanding work", calling her "an evil genius" and a "hero."
We're quietly rooting for Mr Brown Snr. to launch a revenge attack in 2019. He's got plenty of time to plan.
READ MORE: The One Thing 'Love Actually' Actually Nailed About Christmas
How does Brussels sprout-gate compare with other examples of seasonal skullduggery? Here are just a few we found -- feel free to take notes, Mr Brown.
Winners and losers
Fido-approved
An avocado? Thanks ...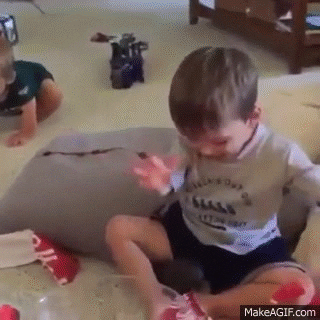 All wrapped up
Antique antics
Gift not included
Turn up the beet
Snow hungry
Feature image: Twitter/@mcjude.