We Tried The Kardashians' Favourite Salad And We Have Some Thoughts
The truth on the world's most-televised salad. Bible.
You'd have to be blind to have never noticed at least one of the Kardashian klan tucking into a meal over the 15 seasons of KUWTK.
Our fave reality TV family love to eat, and one of their fave dishes is a salad from a local LA restaurant, Health Nut Calabasas.
Inside word is that Kourtney's a fan of the Chef Salad, while Kim and Khloe love the Chinese Chicken Salad.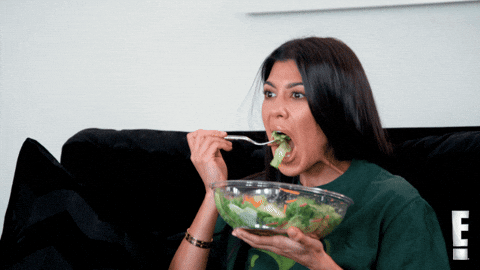 Well, not to boast or anything but we've tried both and we're here to spill the tea.
We are no professional kulinary kritics, but we love to eat, so consider us kualified. And no, we won't stop with the 'k's.'
READ MORE: We Guarantee You You Will See Most Of These On Your Table This Christmas
First impressions
Like a lot of things in the US, these salads are HUGE. Like, the plastic containers are hubcap-sized.
They call them "jumbo-sized" in the press release, but these bad boys would feed two rather hungry adults. Luckily we are hungry.
The salads themselves look nice and fresh, but we can't see any of those hot-right-now ingredients -- like kale or freekah or edamame -- in there.
Everything is surprisingly simple, so we're keen to see how they stack up in terms of taste.
Chef Salad
(Sliced chicken, shredded mozzarella, tomatoes, sprouts, sunflower seeds and avocado, drizzled with a lemony vinaigrette.)
Simple, clean and wholesome, this salad is great when you want to binge but like, don't want to binge too hard, if you get what we mean?
The mozzarella is an unexpected inclusion but coupled with the zingy vinaigrette it really works.
"It makes it more substantial as well," said Claire, contributing editor.
Chinese Chicken Salad
(Shredded chicken, crunchy noodles, pickled ginger, avocado and finely sliced carrots, drizzled with a delicious sesame dressing.)
This one was *makes chef kissy hands* really noice, but we could've done with more -- lots more -- crunchy noodles.
And then there was the dressing. "I would literally drink this," declared Tash, 10 daily's lifestyle editor.
READ MORE: How To Curb Your Christmas Lunch Food Coma (If You Want To)
The final verdikt
Soz Kourt but for us the Chinese Chicken Salad was the winner. With its drinkable dressing and pleasant crunch, this beat the Chef Salad by quite a margin.
And that's Bible, y'all.
Both salads are available exclusively via Deliveroo for a super-short peroid of time -- from December 18 to 20 -- and they cost a tenner each, with free delivery.
Feature image: Gillian Wolski, E! Network.