Summer's Looking Lit AF Thanks To ALDI's Sneaky Goon Bag Tote
We're dreaming of a wine Christmas.
Ladies and gentleman, we finally have somewhere respectable to store/hide our goon bag this summer and it's all thanks to ALDI.
The German supermarket giant is delivering the boozy goods by way of a stylish new tote bag that comes in assorted colours and features a hidden insulated "drink pouch with dispenser."
Sure, nowhere in the product description do they mention the word 'wine' but don't try to be coy with us ALDI. We know exactly what your "drink pouch with dispenser" is for, and that's dispensing good old vino.
READ MORE: This $7 Wine Just Got Named As One Of The Best In Australia
The incredible invention -- which looks just like a normal handbag -- is perfect for picnics, lunch with the in-laws, parent-teacher nights ... anywhere you want to indulge in a discrete drop or two.
Not that we're condoning the drinking of alcohol in prohibited areas. Not at all. If anyone is, it's ALDI, so ...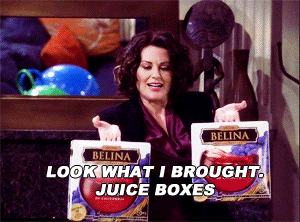 There's only one thing left to do.
Grab your fave cask wine, aka juice box, from the bargain bin at the bottle-o and head on over to ALDI on Saturday December 22 when summer's must-have functional, festive and fun accessory goes on sale.
READ MORE: 5 Questions You're Too Scared to Ask a Wine Expert
It costs $19.99 -- a bargain! -- and we're buying one for each arm.
As always guys, drink responsibly.
Feature image: ALDI.