These Genius Travel Tips From Frequent Flyers Could Help On Your Next Long Haul
No one knows how to travel well more than the well-travelled.
Boarding a long -- or short, let's face it -- haul flight around the holiday season is never easy. Hours of flying time until you get to your destination, cramped seats, airline meals... oh, yes, and crying babies. Oh, and drunks. Oh, and snorers.
Gah. *Packs earplugs immediately*
However, what if we told you that you can actually enjoy the journey as much as the holiday (remember, you're going on holiday so suck it up, sister!) with some simple help.
Well that's where frequent flyers come in. If anyone knows how to hack the system, they do. And if they're not hacking any system you're a part of, they can certainly make your flying time a little more enjoyable with their experience at your fingertips.
From what to take in your carry on to how to sleep, eat and while away the hours, people who fly a lot have some valuable advice for you.
For instance, these tips about when and where to book
"Book an aisle seat in the middle at the back somewhere. Chances are, if the flight doesn't fill up, you will get at least two seats to yourself, if not the whole row!"
"Fly in the week -- not on weekends. Most people take holidays from a weekend til a weekend, so the flights are busier. And often more expensive. Book a Thursday flight through Doha, for instance, and you could end up with a half empty plane to relax in. I did. It was glorious!"
When you have a choice of flights, go for the one that lands early evening. By the time you get through passport control, get your bags and get to the hotel, you will just want maybe a light dinner, a shower and sleep at a sane bedtime. I think it's worth paying a bit more for civilised flight times if you can."
Or these, about onboard comfort
"Take your own blanket, pillow cover, ear plugs and socks (you can get travel ones that all fold up into the mini pillowcase) and change into leisurewear on board to get in the zone. Disinfect all surfaces you touch (screen, arm rests and especially the tray with antibacterial wipes. No caffeine or alcohol til just before landing and only eat light meals."
READ MORE: The 10 New Travel Hotspots To Get To Before Everyone Else
"Cleanse your face before going to the airport then slather yourself in the expensive night creams in duty free and spritz with your favourite scent. Pack moisturiser, face spritz, eye cream and lip balm for the journey and apply all of them often."
"Noise-cancelling headphones, get Netflix downloads all-sorted, download e-books or magazines (I recommend the Zinio app) if you prefer reading, BYO snacks, and drink all the water you can handle."
"I have a little drawstring bag on a long string that has all the essentials in it. I put it in the seat pocket with the string hanging out and if I need any thing because I'm starting to fall asleep, like my eye mask, ear plugs or a sleeping pill, Advil or even Tim Tams, I can find it without disturbing myself. I also always have that tiny bottle of water right next to me if I get thirsty. I pretty much sit on it ? or lay on it if I get the entire row to myself."
READ MORE: I Go On Holiday Without My Husband And That's Just Fine With Us
On long travel trips I've been making the effort to handwrite at least one letter or a decent email to those folk I'm always meaning to correspond properly with but never get around to. And instead of shuffle play or favourite tracks, I try to select some full albums to rediscover the forgotten gems on my playlist. It's the little things... And dare I say, Kegels?"
"Lots of water and calf stretches and be nice to the attendant from the outset so they let you move if there are kids (and more importantly their parents who think the plane is their living room) are nearby."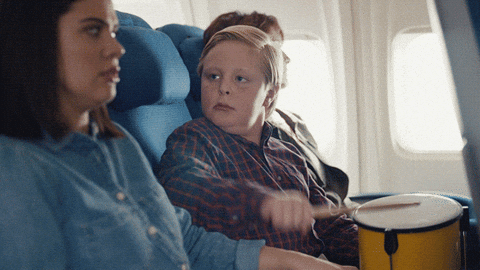 "I always take a large comfy scarf that doesn't crush. It really keeps you warm against that air con and acts as pillow slip to my blow up neck pillow."
"Try not to drink too much. Request a special meal which means at each food service you get you meal before everyone else. Wear earplugs and take eye drops."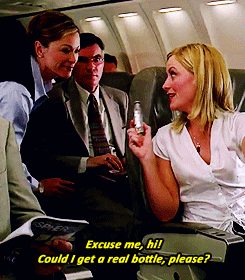 "Don't get worked up about it. Accept it and enjoy the time out."
Or these about using points
"You get far better value by using points to actually fly rather than buy things or get discounts -- and use them to get yourself into business class rather than economy because for the most part, the number of points needed to travel at the pointy end is only twice that for an economy seat on the same flight!"
READ MORE: Why Do We Pay For Name Changes On A Flight Booking?
If you have points, use them, If they can make your trip more comfortable do it. Flat bed versus keeping points? Pah!"
And then you have the ones who are no help at all...
"I like to fly Nimbus 2000. Upgraded saddle and stirrups, increased manoeuvrability, excellent one handed controls & imitation replica straw bristles."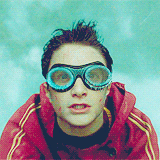 "I only fly private so will need further input. Is business class a school of people on a plane that work or, something else?"
"Duck into the business loos on your way through to cattle class and nick all their fancy bottles of stuff. Check inside the cabinets, too."
Fly safely -- whatever it is you do onboard -- and have yourself a very good old holiday season.
Feature image: Getty