Not Just 'Another Fat Character That Simply Plays The Joker'
"As far as I'm concerned a swimsuit body is a body with a swimsuit on it".
And with that, a new hero is born. We're talking about Dumplin' -- the sassy main character in the film of the same name that just dropped on Netflix.
The film centres around Dumplin', real name Willowdean, (played brilliantly by Australian actress Danielle Macdonald) the plus-size daughter of a former beauty pageant queen (played to aplomb by Jennifer Aniston) who decides to enter a pageant as a form of protest against its lack of diverse body shapes.
The film's release marks a subtle turning point in the way bodies -- especially those that don't adhere to the thin ideal -- are represented on screen.
READ MORE: Jameela Jamil Totally Dumps On Airbrushing And Calls For A Ban
Obsession breeding obsession
It's rare for audiences to see anyone of Dumplin's size on the big screen. A 2017 study from the Journal of Psychosomatic research found that not only are overweight characters under-represented on TV shows, they're also frequently shown eating, and are less likely to be considered attractive than their thinner counterparts.
According to body image therapist Ashlee Bennett, the lack of diverse body shapes on screen is "one of the big issues my clients always bring up".
"They say they feel like they don't belong because they don't fit into the thin idea they see in movies or on the TV," Bennett told 10 daily
According to The National Eating Disorder Collaboration, a number of factors can increase a person's risk of developing an unhealthy body image. These include their age and gender and society's obsession with thinness.
The organisation goes on to explain: "Role models expressing body image concerns and modelling weight loss behaviours can increase the likelihood of an individual developing body dissatisfaction regardless of actual body type."
The Fat Joke
Seen this?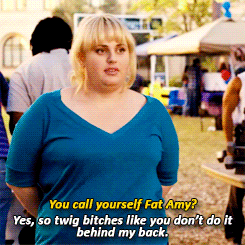 The role of the fat friend used as comic relief in movies and TV is one which audiences are familiar with. Think of Sharon from Kath and Kim, or Megan from Bridesmaids.
It's such a thing, in fact, that a US-led study into the psychology of popular media culture found that "one of the few stigmatised conditions still considered 'fair game' for public joking and ridicule is obesity".
The study, published in the American Psychological Association, went on to say that "the standard for TV and film comedies is to show overweight characters in a stereotypical and disparaging manner".
But that's where Dumplin' manages to subvert the standard narrative. See, instead of being the comic relief, Dumplin' is a fully formed character.
"She's not another fat character that simply plays the joker," Bennett said.
READ MORE: Study Finds Some 'Healthy Waters' Are Actually Alarmingly High In Sugar
Bennett said that films like Dumplin' are part of a movement that refuses to mock someone's body shape -- whatever it may be.
"I think that although Dumplin's shape is part of the storyline, it's portrayed in a positive way," she said, adding that it's "a step in the right direction".
Psychologist and director of Body Matters Australasia, Sarah McMahon, told 10 daily that as the film industry currently stands "people existing in bigger bodies are still being represented in a caricatured way".
And while McMahon agrees with Bennett's appraisal of Dumplin', she cautions we still have a long way to go.
The thing is, Dumplin' still fits into that kind of archetypical character we see fat people portrayed as she's got a great personality in spite of her body"
Bennett agrees, adding that "it would be great to see movies where we don't even mention someone's body type".
The Internalisation Of The Thin Ideal
Bennett is sombre when she describes the "intense seriousness" the types of eating disorders her clients present with.
"It's important to note that eating disorders are incredibly complex things, but the internalisation of the thin idea that's represented in the media is pretty high up on the list of causes," she said.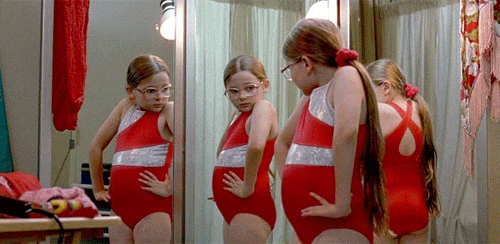 McMahon agrees, saying that while there are more than one million Australian's suffering from eating disorders there's a large sub-population of people that might not be clinically diagnosed with an eating disorder they still engage in unhealthy obsessions.
"These include things like binge eating and laxative abuse," she said.
"We find that most of the time people who are suffering are also navigating through a different stage of life -- such as starting high-school. They're young and, typically, girls"
It's this sense of vulnerability that makes the kind of sufferers both McMahon and Bennett describe highly susceptible to influence from outside sources -- just like TV or film.
Bennett said that she hopes for more movies, like Dumplin', so that more people "can start to see their bodies reflected positively back to them."
"The thin internalisation is only because we see thin bodies. If we see young girls who see other girls who look like them then things will start to shift," she said.
Anyone needing support with eating disorders or body image issues is encouraged to contact Butterfly's National Helpline on 1800 ED HOPE (33 4673).
For urgent support, call Lifeline on 13 11 14.
Feature Image: Netflix