What Qantas' Crackdown On XXL Carry-On Means for You
Plus, which other airlines charge big $$$ for cabin bags that tip the scales.
Qantas is cracking down on cheeky passengers who try to sneak their over-stuffed carry-on bags onto the plane.
The Aussie airline has started 'auditing' baggage on the busiest domestic routes over the past few weeks, and personally we feel attacked.
Apparently, trying to cram 20 outfits, two hair straighteners, a pop-up spray tan booth and the kitchen sink in your tiny wheelie bag for a week in Bali isn't, like, okay.
READ MORE: Why Do We Pay For Name Changes On A Flight Booking?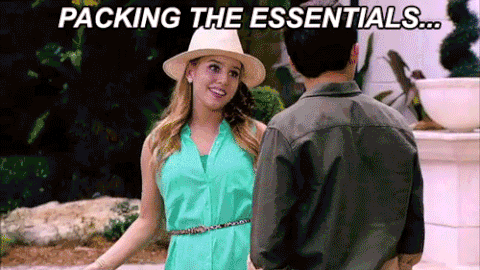 "Qantas offers the most generous amount of cabin baggage of any Australian airline and we know customers like the convenience of not having to check in luggage," a Qantas spokesperson told 10 daily.
But after receiving feedback from flyers the airline realised that some of us needed to be gently reminded about how much luggage we can take onboard.
Hence why they're keeping an even closer eye on cabin baggage "to ensure everyone has their fair share of space onboard."
Not only will this diffuse any ~awkward~ onboard encounters with fellow passengers, but the crackdown will also improve safety, help reduce delays during boarding and ensure an on-time departure. Gotta love that.
READ MORE: This Man Travels First Class Thanks To Point Hacking And Can Tell You How To Do It
With all that in mind, we did some digging to find out how Qantas and other airlines handled carry-on that couldn't be, well ... carried on.
Read on for our comprehensive breakdown, including how much $$$ you'll part with if you have to check-in.
The 411 on carry-on:
Qantas: two pieces, both under 7kg, plus one small personal item like a handbag or laptop.
Like we said, all Qantas fares include checked baggage (the max kg depends on your destination and ticket type) so if your carry-on tips the scales then you'll have to check it in. No dramas.
If that means you exceed the check-in allowance, however, then you'll have to pay $78 for the first extra piece on domestic flights, and between $20 to $175 per kg if you're heading internationally.
Jetstar: two pieces, weighing up to a combined 7kg.
For 3kg extra carry-on weight, nab a FlexiBiz bundle or cough up for Business Class to get 14kg. It's cheapest to do this when you book your flight as the charges to do it at the airport are steep, starting at $30 at check-in or $60 at the gate.
Checked baggage isn't included in Jetstar fares, so if your carry-on does need to be checked in then you're looking at about $60 for up to 15kg, then $15 per kg after that.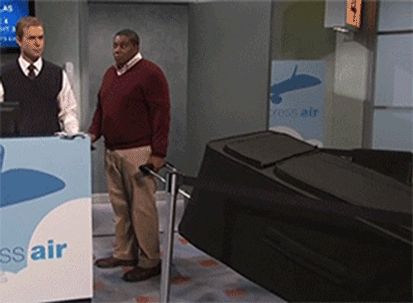 Virgin Australia: two pieces, weighing up to a combined 7kg, plus one small personal item like a handbag or laptop.
Virgin fares include checked baggage and like Qantas the max kg depends on your destination and ticket type, but if you have to check-in your carry-on and it tips the total weight over the limit then you'll be charged.
Expect to pay $70 for the first additional piece at the airport -- it's about half that if you pre-purchase additional baggage online.
READ MORE: The Cities, Airlines And Flight Times Most Likely To Leave You Stranded
Tiger Air: two pieces, total combined weight of 7kgs.
If you're after a few more kgs add Cabin+ to your flight (least expensive when purchased at the time of booking) and boost your carry-on allowance to 12kg.
Remember that none of Tiger's fares includes checked baggage. If you're required to check in carry-on over 12kg you'll be faced with upwards of $75.
Regional Express: two items, weighing up to a combined 7kg, along with one small personal item.
If you top the 7kg allowance you'll have to check in your carry-on, which shouldn't be a problem unless you exceed the max check-in allowance of either 15kg or 23kg (depending on your destination.)
In that case, you'll cop an excess baggage fee of $7.70 (inc. GST) per each additional kg in excess of the checked baggage allowance.
What we've learned is two things: do your research. If you're planning on hauling a whole heap of sh*t on holiday -- say for a ski trip or a winter vacay -- then maybe choose an airline that includes check-in in the fare.
If you are going to be cheeky and stuff your carry-on to bursting then sure, you can risk it for a biscuit and try to get in on board, but considering the crack-downs happening, you might as well just pay to check it in.
Feature image: Getty.