Hold Us, You Can Now Get An Espresso Martini In A Can
Cheers to that.
As if by magic, the people at Kahlúa have gone and read our lazy summertime minds and created an espresso martini IN A CAN.
That's right. No more wasting precious party time trying to measure how much coffee vs how much alcohol -- it's all been done for you.
They've even managed to keep the creamy froth at the top of the cocktail thanks to a nifty small nitrogen widget -- a fancy way of saying a small piece of round plastic.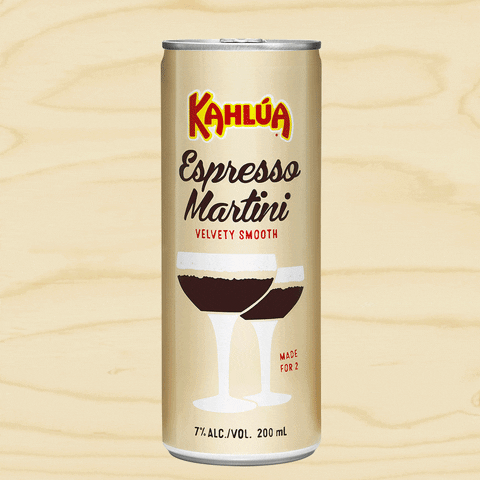 And the recipe is way better than anything you can make at home -- even with those fancy coffee makers. It's got roasted coffee, Kahlúa and a dash of vodka.
Despite this truly groundbreaking creation, it's not the first time the team here at 10 daily have been floored by some fine tasting alcohol served straight from a can.
READ MORE: How To Make An Old Fashioned - The OG Cocktail
READ MORE: Kim K's Vodka Lemonade Cocktail Is A Big Summer Mood
And we're not talking about beer or UDLs here (RIP our teenage years) -- we're talking about spirits and wine. Yup, you can even get wine in a can now. What a time to be alive.
So, without further adieu, here are some of our favourite tinnies to crack open this summer.
Be like The Queen and get your Gin & Tonic fix with this old favourite from Gordon's. You can pick up a pack of six for $27.99 from Dan Murphy's.
Get your sweet summer wine fix with some sparkling moscato in a can from Australian winery Innocent Bystander. You can pick up a pack of four for $20 from BWS.
What is summer without chardonnay? But, let get serious here, it's got to be ice-cold. These beauties from Elephant In The Room make it easy -- just chuck them in the fridge and then crack a cold one. You can pick up a pack of four for $18.00 from Dan Murphey's.
This is one for those who prefer their red wine over their whites. Now, this is very controversial, but it's not completely such a bad idea to pop these shiraz beauties from Take It To The Grave in the fridge to cool them down just a tad before enjoying them. You can pick up a pack of four for $22.99 at Dan Murphey's.
Feature Image: Supplied