Michelle Obama's New Book Is Filled With Insider Secrets
The former First Lady dishes on more than just the Donald...
Michelle Obama's memoir, Becoming, has been released and it's full of never-before-heard stories from the former first lady's childhood and eight years in the White House. And yes, while some of it is about American politics -- most of it touched on some very real personal moments.
It's totally unputdownable, and worthy of a book club reading -- tell your friends!
She's actually startlingly candid about a wide variety of topics, from her shock after learning that President Donald Trump had won the 2016 election to racists labelling her an "angry black woman", to the smaller members of the Obama family -- Bo and Sunny, the family dogs, famous in their own rights.
"Knowing that Malia and Sasha were basically off-limits, the White House communications teams began requesting the dogs for official appearances … They made excellent ambassadors, impervious to criticism and unaware of their own fame."
She tells some stories about her time with royalty -- including when the Queen urged her to sit next to her on the drive back to Windsor Castle during their last meeting, even though they were told the seat was for hubby Barack Obama. "'Did they give you some rule about this,' [the Queen] said, dismissing all the fuss with the wave of her hand. 'That's rubbish. Sit wherever you like.'"
Michelle also opens up about what really happened when she put her arm around the Queen on a visit to Buckingham Palace in 2009.
Mrs Obama was seen putting her arm around the Queen's shoulders during a palace reception, and the monarch responded by putting her arm around Michelle's waist as they stood side by side. Now she's revealed that her conversation with the Queen was about the pain in their feet after a long day in heels.
"The Queen then glanced down at the pair of black Jimmy Choos I was wearing. She shook her head.
'These shoes are unpleasant, are they not?' she said. She gestured with some frustration at her own black pumps.
I confessed then to the Queen that my feet were hurting. She confessed that hers hurt, too. We looked at each other then with identical expressions, like, when is all this standing around with world leaders going to finally wrap up? And with this, she busted out with a fully charming laugh."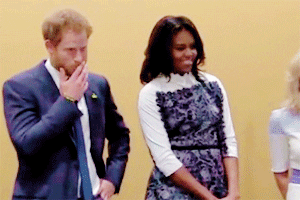 Other great personal tales Michelle opens up about in the book include an adorable story about then five-year-old daughter Sasha, who was less than impressed with the White House when Michelle took her daughters on a tour in 2006, when Barack was a senator. When the tour guide said they were moving on to the Red Room, "Sasha looked up at me and blurted, in the unquiet voice of an aggrieved kindergartner, 'Oh nooo, not another ROOM!'" she said.
She also speaks candidly about being the first black First Lady. "As the only African American First Lady to set foot in the White House, I was 'other' almost by default. If there was a presumed grace assigned to my white predecessors, I knew it wasn't likely to be the same for me. I'd learned through the campaign stumbles that I had to be better, faster, smarter and stronger than ever. My grace would have to be earned."
One class act right there.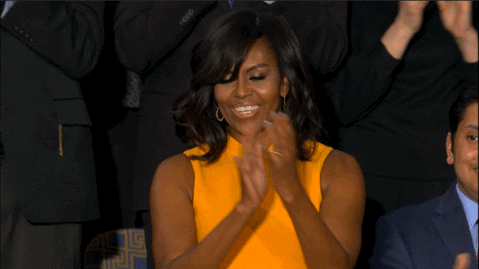 Feature Image: Getty