NSFW: These Are The Sex Toys Horny Aussies Can't Stop Using
Christmas can't come soon enough. As it were.
Come a little bit closer to the screen... we're whispering here. Aussies can't get enough action in the bedroom. And if we can't get any pals to have that action with, it seems we love nothing more than a sex toy.
Time to stock up for Christmas, then.
This tweet is unavailable or no longer exists.
Sammi Cole, online sex retailer Lovehoney's sex and relationships expert told 10 daily that the sex toy industry in Australia is "booming right now", but what we want to know is, what are the most popular products finding their way into bedrooms across the country?
Asking for a friend.
Well, no surprises, we're hopping mad for rabbit vibrators.
Ever since THAT Sex and the City episode, rabbit vibrators have been many a lady's best friend, and it's no surprise that bedside bunnies remain a firm favourite down under and erm, down under. "These iconic sex toys deliver powerful dual stimulation both inside the vagina and around the clitoris, giving you the opportunity to experience the all-powerful 'blended' orgasm," said Sammi.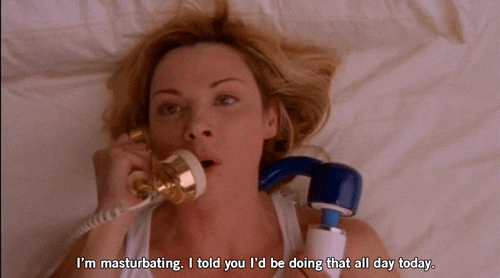 Also they can also be used by people without vaginas, as the external ears give a flared base that makes most of them safe for anal play. Truly the hardest-working toy in the box.
Plus, in a recent study by neuroscientist Dr Nicole Prause, it was discovered that women's orgasms lasted 17 percent longer when they used a vibrator compared to just using their hand. And the toy this was tested with? The Happy Rabbit G-Spot Vibrator, of course!
Sammi recommends: The Happy Rabbit G-spot Rechargeable Rabbit Vibrator $99.95
Next up, Clitoral Suction Toys. Sammi told 10 daily, "though vibrators are often a woman's first sex toy of choice, tonnes of Australian ladies are discovering the throbby sensations of a clitoral suction toys from groundbreaking brands like Womanizer and Satisfyer.
READ MORE: The 6 Bedroom Habits Playing Havoc With Your Sex Life
"These unusual-looking toys feature a small 'nozzle' that surrounds the clitoris, giving a gentle sucking/vibration feeling that can be a welcome break from powerful vibrations for the more sensitive among us. Plus, if you're someone who finds direct clitoral contact a little too intense, these offer a much more gentle (but no less leg-trembling) way to climax."
Sammi recommends: The Womanizer Starlet Rechargeable Clitoral Stimulator, $119.95
And now. Vibrating Cock Rings. Ha, that just makes us want to say: "Holy Vibrating cock rings, Batman!"
But we nervously digress.
Sammi tells us these buzzy couples' toys just fly off the shelves of their Brisbane warehouse (not literally, we hope) -- and it's not difficult to see why.
READ MORE: Survey Says... Women Prefer Shopping To Sex
"By gently constricting blood flow to the penis, cock rings can help erections to last longer and feel harder, meaning you and your partner can enjoy sex for even longer," said Sammi. "But vibrating cock rings go one further -- they feature a small vibrator on one side that helps to stimulate both you and your partner. And if you're in a heterosexual relationship, the added vibrations can target the clitoris, increasing your chances of a mutual orgasm."
Sammi recommends: The Lovehoney Bionic Bullet 5 Function Vibrating Cock Ring, $29.95
Topping the charts of men's sex toys, come prostate massagers. Ideal for wear during solo play, foreplay, and penetrative sex, prostate massagers (or butt plugs) work by slipping into the anus to press against the highly-sensitive prostate gland.
And why is that pleasurable?
"Well, the prostate gland plays a vital part in ejaculation, and it's a nerve-packed pleasure centre that can be most easily stimulated by pressing against the front wall of the anus," said Sammi. "Prostate massagers feature a contoured tip and curved shape for improved accuracy, as well as a flared base that anchors them outside the body and stops them moving (or getting lost)."
Sammi recommends: The Lovehoney Booty Buddy Silicone Butt Plug, $19.95 and a hearty helping of Anal Lubricant, of course.
Now. We're off to have a cold shower. Be safe, kids, and a very happy and horny festive season to you all.
Feature Image: Getty