An Alarming Number Of Girls Are Dropping Out Of Sport Because Of Self-Doubt
A new study has shown that self-confidence is proving to be a major blockade when it comes to young women pursing their sport of choice.
The research was commissioned by Pantene for their Ribbon of Strength campaign, and surveyed more 1,000 women who play sport. It found that a staggering 57 percent admitted they stopped playing at around the age of 24, with many (39 percent) citing self-doubt as the reason for calling it quits.
The sobering statistics don't end there.
Two-thirds (65 percent) of those surveyed said they "have fears" about playing sport, with most saying their reservations had nothing to do with getting hurt, but rather not feeling good enough.
It's a study that's left Rugby 7's player Charlotte Caslick shocked, and, as she tells 10 daily, a little bit sad. "It makes me quite disappointed to hear that a lot of women are feeling that way because for me, sport has always given me heaps of confidence," she said.
READ MORE: Listen Up: Here's How To Break Into Tough Male-Dominated Industries
READ MORE: Are Leaders Born Or Made? We Asked An Expert
Caslick added that playing sport also helped her develop "leadership qualities" such as communication skills and how to take and give constructive criticism.
The bubbly Queenslander's love of sport began when she started playing hockey at just four years old.
"I'm still friends with some of the people I was playing with back then," she said. "That's what makes sport so special – you can make lifelong friends and you've got a group of people outside your school friends who you can spend time with."
10 daily's managing news editor, Sandra Sully, agrees saying that sport "isn't just about you".
"It's get you out of your house, off your bed, off your devices and helps keep you healthy," she said.
"If you choose a team sport, you can develop life long friendships, find new friends outside of school, and critically it teaches you about teamwork."
Caslick said that playing sport also helped with any body-image issues because "when you're playing a you just feel comfortable – it's not about how you look".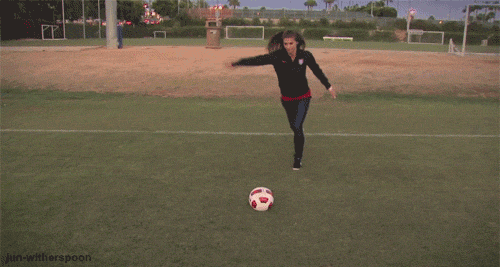 As for any niggling feelings of self-doubt, Caslick admitted that while everyone grapples with it -- "even at our level" -- there are ways to overcome it without hanging up your boots.
"A lot of it is being scared about making mistakes," she said.
We just work to reassure them that mistakes are a part of life and they're a part of sport -- you just need to brush them off and move on. It's how you move on from your mistakes that define what kind of player you are.
Kicking goals, right there.
Feature Image: Getty