Prince Harry Got The Cheekiest Compliment From A Fan
Talk about a royal blush!
The unsuspecting Prince was preparing to make a speech on Queensland's Fraser Island on Tuesday as part of the Aussie royal tour when an audience member piped up with a rather loud comment that left him a bit pink in the cheek.
"You're even better looking in person!" one woman called out before the Duke of Sussex could get a word out.
"I second that!" another cheered.
Harry, ever the professional, took it all in his stride, replying with an equally as cheeky response.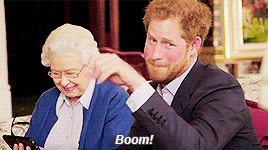 "I'll take that as a compliment," the 34-year-old quipped with a wry smile.
Haz didn't have wife Meghan by his side to share the laughs as the expecting mama spent the day resting up.
READ MORE: Royal Tour Down Under: Meghan Strolls With Harry By The Sea After A Day Of Rest
READ MORE: The Little Boy And The Hug That Melted Hearts Across The World
Instead Harry attended the official Royal Tour engagements solo, which included a visit to the K'gari rainforest where he met with traditional land owners and was treated to a special Welcome to Country Smoking Ceremony.
This tweet is unavailable or no longer exists.
The Duchess did make an appearance that same afternoon, joining her hubby on a sunny stroll along the island's Kingfisher Bay Jetty.
The 37-year-old wasn't shy about showing off her baby bump, cupping her belly with one hand while walking hand-in-hand with hubby Haz.
READ MORE: Prince Harry Spilled On Whether He Wants A Baby Boy Or Girl
READ MORE: Here's Every Single Place Harry And Meghan Will Visit In Australia
The couple are clearly making the most of any downtime they can get their hands on while down under, considering the hectic pace of their tour.
Tomorrow the pair will jet off to Fiji for another day full of commitments.
Here's hoping the royal well-wishers are just as vocal over there!
Feature image: Getty.