Prince Harry And Meghan Totally Loved The Most Bizarre Gift Of Their Entire Tour
Was it because he was a ginger? Or was it just very, very Bondi?
From flowers, hugs and homemade jewellery -- excited Aussie royal fans have been lining up to give the visiting Duke and Duchess their generous gifts.
On day four of their Down Under Tour on Sydney's Bondi Beach, Prince Harry and Meghan Markle received what has to be the most bizarre gift we've seen to date.
In a quintessential Bondi hipster move, the royal couple were given a bunch of carrots -- yes, carrots -- by a member of the colourful crowd as they walked along the iconic beach.
A polite Meghan took one look at the gift, had a little chuckle and then reach for her husband who was busy shaking hands beside her.
"Hun," she giggled "we got some veggies", to which a Harry replied "fantastic!".
Let's be honest though, the real star of the entire exchange was a man -- who appears to be part of the couple's security -- standing in the background wearing this face the entire time.
Given Meghan's recent baking prowess, one wonders if perhaps these carrots will perhaps be used in a carrot cake?
Anyway, the whole moment is giving us major avocado vibes.
You know, remember the kid that got an avocado for Christmas as a joke?
That wasn't the only Bondi-centric moment of the morning. The pair were there to meet members from OneWave -- a non-profit surfing community that raises awareness for mental health.
After kicking off her wedges so she could walk the sand with ease, Meghan and her fellow barefooted husband took their place in an 'anti bad vibe' circle with around 20 other brightly dressed members of the community.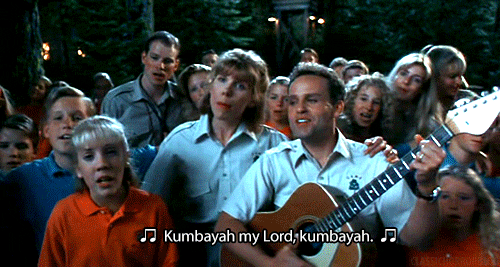 After a few minutes of smiles and chats, Harry could be seen lifting up his arms before putting one around his wife and the other around a member of the OneWave group sitting beside him.
It prompted the rest of the circle to do the same leading to a group hug.
READ MORE: The Moment Meghan Markle Got The Shock Of Her Life In Melbourne
READ MORE: Royal Photographer Tim Rooke Reveals His Favourite Photo Of All Time
Everyone was loving it.
After the love in, the royals and members of OneWave chatted for a little while on the sand -- showing off their unique and very colourful attire.
And despite the beach technically being cleared for security purposes -- one very determined surfer was still determined to catch a wave.
That is until he was told to bugger off.
The royals then joined the rest of the crew from OneWave, including founder Grant Trebilco, for a very colourful and very joyous group shot.
Speaking with Studio 10 after the visit, Trebilco called the entire event "unreal".
"To have the Duke and Duchess down there dressed in fluoro to raise awareness for mental health -- it just shows that mental health issues do not discriminate," he said.
Prince Harry has been open about his mental health struggles -- particularly after the death of his mother, Princess Diana, in 1997.
READ MORE: The Adorable Youngster Who Stole The Royal Show With His Homemade Gift
READ MORE: Meghan Markle Added A Special Ingredient To Her Homemade Banana Bread
In an emotional address to struggling farmers in Dubbo, the royal openly told them not to be afraid to speak up and ask for help because "the moment he asked for help was one of the best things" he's ever done.
Trebilco said Harry's honesty shows that "no matter what you're going through, you don't have to go through it alone".
After their group shots, Harry and Meghan met the waiting crowds -- many who had arrived early this morning to get a prime position on the sand.
They were given a range of adorable gifts -- including those aforementioned carrots.
READ MORE: Meghan Held An Umbrella For Harry And The World Can't Cope
This tweet is unavailable or no longer exists.
There were also loads of teddy bears and plenty of baby gifts -- as per usual. Interestingly, not a poke bowl in sight.
But the couple couldn't stay too long and had to bolt on their way to their next official engagement.
To stay up to date on what the royals are doing during their tour Down Under and follow our live blog here.
Feature Image: Getty.