Here's Where The Royals Should Grub Down Under (Other Than Harry's Cafe De Wheels)
The Aussie delicacies worth a royal seal of approval.
They're the royal visitors taking the country by storm -- yes, Harry and Meghan and their bump have touched down in Australia for their royal tour and the Invictus Games.
You can hear our squealing from there, can't you?
And of course, like any visitors, high on the list of priorities will be tasting the local fare. After all, Australia has a global reputation for first-class food, and Harry will do doubt want to give his bride some nosh fit for a pregnant princess.
READ MORE: Dubbo Can't Wait For The Royal Visit And Nor Can We
READ MORE: Here's Where Prince Harry And Meghan Markle Are Going To Be In Australia
Just in case he hasn't got a list as long as his royal arm of places to book a table for, (or, hey, get Uber eats from, we know how busy they will be), we took the liberty of scouting around for the food we think they should try.
Starting with...
Harry's Cafe De Wheels
Nothing says Sydney like a pie from Harry's, er, Harry, so send a royal aide pronto down to Woolloomooloo for a pie, mash and peas.
The original iconic pie stall started in 1938 and anyone who's anyone has had a Harry's. Just look at this fella.
Tim Tam Slam
Nothing says you're in Australia like a Tim Tam, right? Except, when you have a Tim Tam Slam.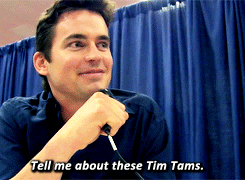 For those not in the know, it's simple -- grab yourself a cuppa, bite the opposing corners from your Tim Tam of choice. Suck beverage through the Tim Tam, timing it so that is doesn't collapse into the cup. Enjoy.
We can just see Harry loving this one. And he wouldn't be the first royal. Just sayin'...
READ MORE: Here's Where You Can See Harry And Meghan On Their Aussie Tour
READ MORE: This Is How Meghan Markle Is Planning To Beat Jet Lag
A pot and a parmy at the pub
OK so you're heading to Melbourne -- don't ask for a pint when you're getting a beer, Harry, ok? Grab Meghan a lemon, lime and bitters while you're at the bar, too.
Down in Victoria everyone drinks pots -- and ask for Carlton if you're not sure. As for what to eat with it - there can only be one thing: true Aussie pub food means a parmy. Veal or Chicken parmigiana. And don't worry, you can be sure to get one at any time. Loads of pubs have a dedicated night where you can grab a decent priced chicken parmy with a beer. A chicken parmy is basically a chicken schnitzel (chicken in breadcrumbs), topped with a tasty tomato sauce with melted cheese on top. Really, what's not to like.
Oysters in Tassie
Get shucked, Harry. And no -- that wasn't an insult so don't send us to the tower.
If you're fans of seafood and want fresh off the rocks oysters then head to Bruny Island in Tasmania and the little oyster shop called... you guessed it... Get Shucked. Obviously Megz can't eat these -- make sure you get her some hot chips instead, but you may want to try them anyway. According to their website, they would totally be up for it and nothing says welcome to Tasmania like a couple of fresh oysters. "Want to wrap your lips around an oyster that's so fresh it's like you're being kissed by the ocean? Get on down to Bruny Island and drop into Get Shucked, a locally owned and operated oyster farm and bar. Our oysters are harvested, shucked and plated up daily just for you! You'd be hard pressed to find a fresher oyster or a more authentic experience."
READ MORE: Hey Harry And Meghan, Want A Good Place To Stay In While You're Here?
READ MORE: Yes, The Opera House! Yes, Dubbo... But Harry, What About The Big Banana?
Love yourselves a lamo
Too sweet say some, but a good old cake shop Lamington is a treat not to be missed. It's a cake fit for an heir (or the spare) and that coconut covered sponge will keep them going through all their engagements. And then some.
Berry's famous donut van
Hear us out. They're hot, fresh and a local icon. People come from far and wide for these little suckers and given that Berry also has a few nice gift shops, you could buy the Queen a tea towel at the same time. We live to serve.
A Black Rat
No we're not talking eating one of our marsupials or rodents, don't worry. We're talking about that most Australian of drinks, the Bundy and coke, known colloquially in the northern states as the "Black rat". According to the Cocktail Hunter website, it's a nip of Bundaberg Rum and some coke mixed to gether but here's a tip Haz, you can get it in a can! Portable! They're particularly popular in Queensland, so you may want to pack one or two for Fraser Island. Meghan will have to make do with a softie.
Dubbo's famous pies
We've said it before and we'll say it again -- Dubbo is looking set to be one of the highlights of the royal tour. And one of the reasons? Dubbo mayor Ben Shields points to true culinary delight awaiting the royal couple. "It's got to be the cheese and bacon pie at the Village Bakery, it's clearly the best," he told reporters.
A Bondi breakfast
Make like a local in Bondi's famous beachside brekkie spots -- guys this is THE place to be seen in Sydney and you can choose anything you want while you're there on Friday, it's what Sydneysiders do.
From Speedos' famous egg and bacon roll (Harry, that has youre name on it for sure) to the Green Pea Pancakes at hyper-hip Porch And Parlour -- something Megz would enjoy we're sure, with avocado, snow pea, poached egg, feta, zucchini and mint salad, you can't go wrong. Grab them to go on your way to OneWave's "Fluro Friday" session.
Feature Image: Getty / Harry's Cafe de Wheels.