Sir Richard Branson Is Planning On Making Us Exercise In Space
The billionaire has plans to make sure we're still living our best lives even when we're not on earth.
As if doing burpees on earth wasn't painful enough, Sir Richard Branson, the charismatic founder of the Virgin Group, has already set the wheels in motion to get us moving in outer space.
"Well, you're definitely going to be able to levitate in space," he told ten daily.
Branson, whose company Virgin Galactic is planning its first space flight within weeks, said that even though the initial flights will be "quite brief" he believes "it's important that you do look after your body in space".
"Right now we just want to be able to cope with the G-Force. But as we go into orbital flights our exercise regime will be important," he said.
The 68-year-old is clearly a man who practices what he preaches.
Opting for a glass of lemon and ginger tea for our chat, his daily routine reads like the diary of a man in his prime -- which, according to Branson, he most certainly is.
"I get up about 6am. Then I go and play a hard game of singles tennis, and if the wind's up I'll go kite surfing. And then I'll have a bit of breakfast about 8am and then I'm ready for the day," he said.
The British billionaire confessed that while he still enjoys "half a glass of red" some nights, he prefers to focus on "healthy food, mainly because I want every day to feel fantastic".
Instead of alcohol, Branson prefers to "get drunk on endorphins".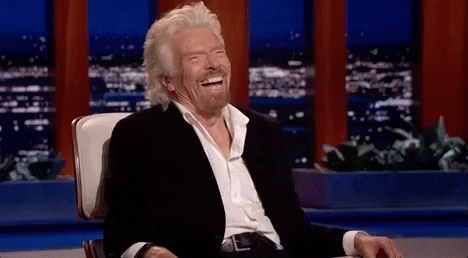 But healthy living isn't the only thing he's passionate about. Branson is also keenly devoted to lending his voice to social issues, with visit to Australia coincided with World Day Against the Death Penalty.
To mark the occasion, Branson attended a special screening of the film Guilty, which chronicles the final moments of Bali Nine member Myuran Sukumaran before his execution.
He's also big on drug reform, and, after our interview, went to speak at an event held at Sydney's Town Hall urging the Government to change its stance on addiction.
But despite his views being met with a (generally) positive response, don't expect Branson to follow in the footsteps of someone such as Donald Trump and enter politics.
"I wouldn't go into conventional politics," he said.
"I speak out a lot on issues and I believe there are plenty of issues that are important to stand up on."
Branson is also Down Under to announce the expansion of Virgin Active's latest venture, the Collection Club, with 11 venues set to be rolled across Sydney and Melbourne.
The idea behind the club is to provide members with everything they need to get healthy -- holistically, mentally and physically. A kind of one-stop shop for your health.
"What we're trying to do at Virgin Active is make getting fit fun, and enjoyable, and addictive," Branson told ten daily on Friday.
"Instead of a drinking addiction, come and get a health addiction," he said.