Meghan Markle Just Played Netball In Stilettos And We Are Royally Impressed
The unofficial style queen and official Duchess hit the court wearing a head-to-toe designer look, and it was totally outrageous and totally perfect at the same time.
The 37-year-old faced off with her hubby Prince Harry in a friendly netball goal shoot-out at Loughborough University on September 24.
It was all to celebrate the success of the Royal Foundation's Coach Core program, which trains young people to be sporting coaches.
For her athletic engagement Meghan opted for a navy Oscar de la Renta top, black trousers by Altuzarra and a pair of towering black heels.
Overdressed? Never.
The fact that the newly-minted royal was able to simply walk across that slippery-looking gymnasium floor in stilettos is feat of grace and elegance in itself.
We'd be on our tushes in a nano second.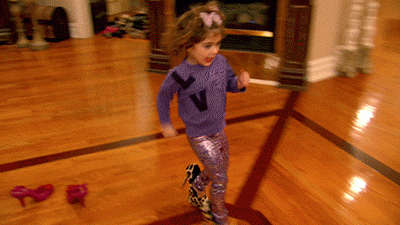 Some on social media were slightly more critical of the Duchess' choice in footwear, with one saying that it was "ridiculous to wear stilettos on a sport court."
Others were pro-heels, saluting her "amazing" shoes and her snappy outfit as a whole.
READ MORE: Meghan's "Something Blue" Will Give You All The Feels
One keen-eyed commenter suggested that British designer Stella McCartney -- she created Meghan's wedding reception gown -- could have lent her pal a pair of sneakers from her Adidas line.
"Stella could have surely given the Duchess serious Sneakers for the event! Anyway, looks like they had fun, all that matters!"
Indeed.
Let's not forget that Meghan was born in the US -- where basketball reigns supreme -- so it may have been the very first time she'd ever picked up a netball in her life. The game was invented in England, after all.
Naturally, the ex-actor took to the sport like a pro and was not only able to stride her way around the court with ease but she also gave Harry a run for his money in the fast-paced shoot-out.
READ MORE: The Big Clue That May Prove Harry And Meghan Aren't Trying For a Baby ... Yet
Alas, the prince bested his wife on the day, but we suspect Miss Markle may have given him the win.
Suffice to say, we were very, very impressed and can't wait to see which activity Meghan tackles in heels next. Paragliding? SCUBA diving? We wouldn't put it past her.
Feature image: Getty.