You Can Spend The Night In A Cottage Made Entirely Of Chocolate
Try not to lick your screen.
If heaven really is a place on earth than we're pretty sure it's located in France, because that's where you can now spend the night in a cottage made entirely of chocolate.
The delicious little abode was made using a whopping 1.5 tonnes of the Food of the Gods and is large enough to sleep around four guests -- or one very dedicated chocoholic.
Inside the 18-square-metre couveture castle guests can find a chocolate fireplace, table, chandelier, clock, cups, and books.
Plus, you can even go full Willy Wonka on the joint and get busy licking the walls because they too are made of the good stuff.
There's even a chocolate duck pond if you're into that kind of thing (Augustus Gloop, we're looking at you).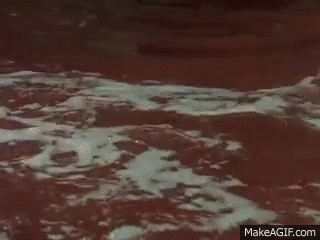 The home was designed by a man with the best job in the world -- chocolatier Jean Luc Decluzeau -- and sits inside the L'Orangerie Ephémère glass house in Cité de la Céramique in Sèvres, France.
READ MORE: We Can't Put Our Fingers On Why KitKats Are Selling For $200
Guests will even be treated to a chocolate workshop by the master chocolatier himself, before sitting down to a delicious dinner and breakfast -- probably also made entirely of chocolate.
The nightly rate to stay in the cottage is a ripping bargain at just $80, but given this is just a pop-up experience, it's already sold-out online at Booking.com.
But stay tuned because we have a feeling there'll be another one very soon (please).