Why You Should Eat The 'Weeds' In Your Garden
Paddock-to-plate? More like backyard-to-bowl.
Diego Bonetto is into weeds … like, really into weeds. No, not that kind of weed.
He's into the kind you can find right outside your front door.
Bonetto gives credit to his unusual obsession to his upbringing on a farm in northern Italy. "At the time it was a common task for the young in the family to collect wild seasonal produce," he told ten daily.
Instead of shutting the blinds and playing Fortnite, Bonetto said he would spend his days outdoors foraging for "dandelions and wild asparagus in springtime, mulberries and wild cherries in the summertime, mushrooms, chestnuts and hazelnuts in autumn."
It's the talent of being about to spot and take advantage of each "seasonal treat" that has seen Bonetto cultivate somewhat of a cult like following Down Under.
Through his Instagram, aptly named @TheWeedyOne, Bonetto gives followers an insight into his weedy wanderings around Sydney and its surrounds.
For Bonetto, his push towards a weed-driven lifestyle is driven by a desire to create a more "sustainable lifestyle and environment".
"What people call 'weeds' are species that co-evolved with humans, and that learned to take advantage of what we've done to the environment and exploited the niches we create in our surroundings," Bonetto said.
"What we call "weeds" are just a consequence of human engagement with the land."
Some of Bonetto's favourite foraging feasts include a focus on wild fennel seeds, mallow, and lillipilli. All of which can be found "right outside your doorstep".
In theory, it all sounds so simple. But what happens to someone who doesn't have Bonetto's vast knowledge? Is it still safe to head out into the wild?
According to Botteno, absolutely … but take precautions.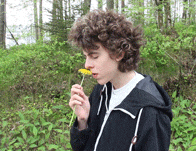 "You should get to know what grows in your garden and enrich your diet with seasonally available vitamins and minerals," he said. "But do not eat anything that you're not totally confident in."
Bonetto said those we are keen beans to get weedin' should first educate themselves by checking out online resources, reading books and taking courses.
"Curiosity is the best teacher," he said.
Feature Image: Getty