21 Delicious Ways With Bacon On International Bacon Day
We're bacon you very, very hungry.
It's International Bacon Day on September 1 and what better way to celebrate than by consuming a hearty serving of the delicious stuff.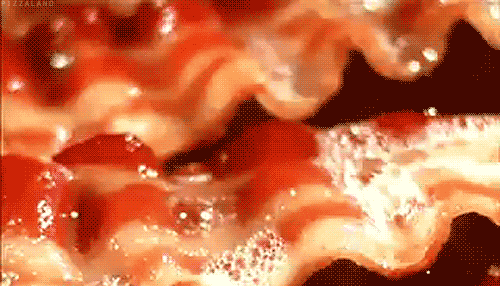 Whether you like your bacon super-crispy or a little bit chewy, on a burger or a doughnut, or simply on its own, we've got a dish idea to tickle your fancy!
Before you dive in, here's a cute little bacon-related fact to impress your friends: the word 'bacon' is derived from the Old High German term bacho, which means 'buttock', 'ham' or 'side of bacon.'
Now get out there and live your best bacon life.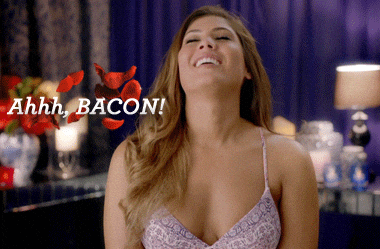 Maple bacon ice cream
One whole tub, please.
Egg and bacon roll
You know what they say, if it ain't broke ...
Choc-dipped bacon
Imagine the crunch.
Carbonara
Bacon AND carbs?!
READ MORE: Three Genius Hacks To Stop Your Avocado Going Off
Egg and bacon tart
A strong pairing.
Maple bacon cupcakes
It shouldn't work but it does.
Maple bacon doughnut
Push the bacon boundaries with a non-savoury treat like this delicious maple-glazed, crunchy bacon and pork floss-dusted doughnut. Best of all you can get them delivered to your door!
Bacon-loaded fries
Drizzled with premium truffle oil, infused with Japanese-style mayonnaise, and coated with bacon pieces, these fries are to die for.
Bacon pancakes
The best way to start the day.
READ MORE: Yay Or Nay: We Tasted Cadbury's New Kettle And CC's Chocolate
Bacon waffles
Perhaps pancakes aren't your thing? Say hello to bacon waffles.
Bacon-wrapped chicken
Two delicious meats in one.
Mac 'N Cheese topped with bacon
A lesson in making a good meal great.
Bacon rocky road
Give it to us. ALL OF IT.
Bacon Mac Daddy
A double smoked bacon, bacon mac 'n' cheese, poached eggs, tomato relish and fried shallots in a buttery croissant.
Bacon milkshake
Madness. Tasty, tasty madness.
Bacon melt
May god have mercy!
Bacon pie
It's also got a hash brown crust.
Bacon-wrapped scallops
A new twist on Surf 'N Turf.
Bacon-wrapped sausages
Sooooo you can pretty much wrap anything in bacon we guess.
Bacon cookies
You won't stop at one.
And finally ... whatever this is!
Feature image: Instagram/@milkbar_cafeish, @the.bacon.nation, @thespruceeats.