Meghan Markle And Prince Harry: Their First 100 (Or So) Days
15 big moments from the newlyweds' first few months of marriage.
Prince Harry and Meghan Markle's life as a married couple has been filled with milestones, but this week they may have reached their biggest one since tying the knot, and that's clocking in 100 days as Mr and Mrs.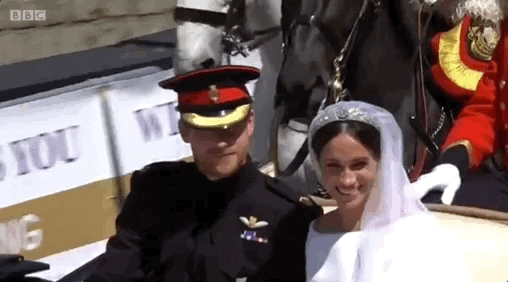 It is therefore now time to take a trip down memory lane and celebrate the highlights of the Duke and Duchess of Sussex's first three months of wedded bliss.
So best you dismiss the servants, retire to your private wing and relax with a cuppa -- served in the good china, obvs -- as we kick off with ...
The Wedding
Where do you even start with this picture-perfect day? There was the fairy tale setting of Windsor Castle, the gaggle of adorable bridesmaids and page boys -- even the weather was stunning.
It was all eclipsed of course when one Ms. Markle stepped out of the car in that jaw-dropping Givenchy dress.
Then of course there were the celeb attendees including the US Queen herself, Oprah, who apparently struck up a friendship with the bride's mother, Doria Ragland, before the wedding.
And how can we forget American Reverend Michael Curry -- the first black leader of the Episcopal Church in the US -- who almost stole the whole show with his powerful sermon.
Where is the good Rev now? He underwent surgery for prostate cancer in early August, and is reportedly recovering at home. We wish him all the best.
We can still hear the church bells a-ringing ...
The official pics
Mere days after the two had tied the knot royal wedding fever was reignited when the Palace released the official wedding portraits.
Safe to say that we were, and still are, nowhere near ready to let these nuptials go.
Just Married
The newlyweds stepped out for their very first official engagement together just three days after the wedding for Prince Charles' 70th birthday celebrations, and it gave us all a chance to bask in Harry and Meghan's loved-up glow.
Oh and also check out the Duchess' new royal wardrobe.
Top secret honeymoon
Rumours swirled around the exclusive destination that Haz and Megs had selected for their honeymoon -- the hot tip was Canada at one point -- but the location is to this day still rather impressively under wraps.
BFFs with the

Queen

Less than a month after officially joining the royal family, Meghan was whisked off on her first solo outing with her grandmother-in-law, the Queen. Nerve-wracking much?

The resulting photos prove that the two spent a very enjoyable day indeed visiting Chester city in the country's northwest on June 14, so much so people started calling them new BFFs.
By all accounts the pair's relationship has only strengthened, with Her Majesty seemingly taking Meg under her regal wing at future engagements like the Trooping the Colour.
If that's not the royal seal of approval we don't know what is.
Happy days
One lucky punter was privvy to the new Duchess' early thoughts on marriage during the Chester trip, with Meghan sharing that Harry was the "best husband ever."
Aaaaand we all proceeded to die from cuteness. RIP us.
Chummy with Charles
The Queen wasn't the only senior royal that Meghan had apparently won over, when word got out that father-in-law Prince Charles had given her an affectionate, if not strange, nickname.
Harry's dad did step in to walk Meghan down the aisle at the eleventh hour after all when her own father was unable to attend due to rather dramatic circumstances, which leads us to ...
The crazy in-laws
It's no secret that Meghan's family, particularity her father Thomas Markle and half-sister Samantha, are rather, er ... outspoken. Every other day there's something new for them to complain about or pick apart, whether it's the Queen's decision to meet with US President Trump, or Meghan's apparent disrespect toward her dad.
While the Meghan and her newly-adopted family have kept mum on the whole ugly saga, celebs like model Chrissy Teigan have openly sassed Thomas and co. for their poor form. Speak your truth, Chrissy.
Irish Getaway
Meghan and Harry jetted off to Ireland on July 11 for a jam-packed day of engagements which included meeting two very gorgeous Bernese Mountain Dogs, and of course their owner, the Irish President.
Both human and animal parties appeared to enjoy the whole interaction immensely.
The adorableness didn't stop their, either, with a curious little fan getting up close and personal with the Duchess' tresses.
Harry waved a cheeky finger at the youngster while his wife gently tugged her hair free, meanwhile everyone just shouted GOODNESS JUST HAVE SOME BABIES RIGHT NOW.
Sister-sister time
Days after her Irish jaunt, Meghan caught up with her sis-in-law Kate Middleton when the pair attended a Wimbledon match, and they appeared thick as thieves as they chatted and giggled throughout.
The Duchesses both looked fab, with Meghan in a striped shirt, cream palazzo pants and rocking her now-signature messy bun.
Home sweet home
There we all were expecting the newlyweds to set up their home at York Cottage at Sandringham -- it was, after all, reportedly gifted to them by the Queen.
But in late July those plans were seemingly biffed in favour of another grand residence, Adelaide Cottage on the grounds of Windsor Castle.
Updated in 2015, the estate offers seven gated entrances and exits to Windsor Castle so Haz and Megs can zip in and out as they please, and in a racy twist the sprawling abode was once home to the late Princess Margaret's lover, Peter Townsend.
By all accounts the couple should have moved in by now and be arguing over whose turn it is to take out the rubbish.
A pash at the polo
A Harry-and-Meghan sighting is a treat in itself but royal watchers got a whole lot more when the royal newlyweds puckered up big time at a charity polo match on July 26.
Naturally the entire planet went into a spin, and it's unlikely we'll ever really recover tbh.
Harry gives his car the boot
Heads kept on spinning in early August when the Prince quietly decided to sell his silver Audi, which of course meant that he and Meghan are having a baby.
Don't quite see the connection? Well the idea was that Harry was doing what many couples do when they're planning a family, and that's trade in their car for something more bub-friendly.
A spokesperson for the car sales site itself didn't help things much when they pretty much said that exact same thing.
Happy royal returns
The Duchess celebrated her first ever birthday as a fully-fledged royal on August 4 by ... attending one of Harry's friend's weddings.
By the looks of things it wasn't a total bummer, and we're surer than sure Harry had something special up his sleeve for the remainder of the day. What that was, we sadly do not know.
Megs also received some birthday love from her makeup artist pal Daniel Martin -- he did her pared-back wedding look -- who shared a sweet throwback vid of the Duchess eating raspberries.
Dog days
The latest news is that the Duke and Duchess are now proud parents to a bundle of canine joy in the form of a Labrador. Aww.
The couple's new four-legged pal joins Meghan's rescue dog, a Beagle named Guy, who she brought over to London in 2017.
Pics of the pup have yet to surface but we cannot wait to see the Sussex's newest family member. Stay tuned!
Feature image: Getty.