Alpaca Your Bag: The Best Places To Vacay With Alpacas
There is a new way to holiday and it includes a lot of fluff and a whole lot of cuteness.
No longer satisfied with Instagram posts and GIFS of the adorable little fluffers, tourists are now picking their next holiday based on alpaca amenities.
We bet you have a lot of questions...
How many alpacas can we meet? How close can we get to them? Can we feed them? Ride them?
Unfortunately, that answer to that last question is a no but there are plenty of cuddles to be had if you know the right places to stay.
We have found the best places to vacation with the fluffiest and sassiest alpacas to be found.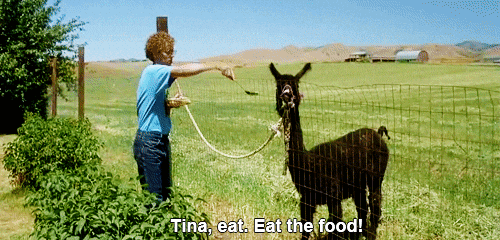 Atlanta Alpaca Treehouse in Georgia, USA
Did someone say treehouse? Not only is this farm home to five adorable new alpaca friends with names like Elfie Fay Von Picklesprite, Ariana Dandylion and Dali Lama but you can stay in an actual treehouse!
Nestled in a secluded bamboo forest, with all of life's little luxuries thrown in like deluxe linens and air conditioning, this is NOT your childhood treehouse.
Stroll through the rest of the 2.5 acre farm and mingle all the other animals like a rescue duck, bearded chickens (yes, that's a thing) and roosters.
Book from approx. $175 per night.
Brookby Hill Cottage in Marlborough, New Zealand
This self-contained modern one bedroom unit boasts incredible views over the Wither Hills and Kikoura Range, and alpaca encounters!
Currently showing off three new arrivals, you can mingle with the baby alpacas and spend time getting to know the rest of the gang by feeding them straight from your balcony.
The cottage is rated five stars on Airbnb and guests also loved the stocked wine in the fridge and super comfy beds - bonus!
Book from approx. $ 130 per night.
Starline Alpacas Farmstay Resort in the Hunter Valley, Australia
This farm mixes two of our favourite things -- wine and alpacas.
Located on a working alpaca farm with more than 200 alpacas, you are sure to fill your quota of cuteness, with a glass of red in your hand thanks to their 12 cellar door vineyard.
With a choice of luxury suites or family cottages, there is plenty of space (and alpacas) to go around, you can feed them from some of the cottages or cool off in the pool while you watch baby alpacas frolic in the sunset. Very romantic!
Book from approx. $285 per night.
This tweet is unavailable or no longer exists.
The Mallkini Alpaca Farm and Adventure in Peru
For those of you who want to take your alpaca love pro, there is a place for that.
Spend your days surrounded by all things alpaca at one of the biggest alpaca breeding farms in Peru, the exclusive Mallkini Ranch where alpacas are pampered to produce the best alpaca wool in the region.
Smack bang in the middle of the glorious Peruvian highlands, you can indulge in your love of alpacas and learn everything there is to know about the country's most famous four-legged friend.
Adventure junkies can try hiking, rock climbing and mountain biking, before settling in for the night at a campsite with your personal alpaca assistant to help carry your camping gear or just chill in the guest house and observe how alpacas live their days, being unashamedly cool.
Book here, prices vary.
READ MORE: Alpaca Thief Steals Three From Farm
Contact the author: ncarroll@networkten.com.au