Yo, Bookworms: You Can Now Read Classic Novels on Instagram
It puts the story in Insta Story.
There's a brand new addition to the melting pot of cat photos, sarcastic memes and #blessed holiday snaps that is Instagram, and it might just surprise you.
Books, those funny things with lots of words and a beginning, middle and an end, have made the leap from bookshelf to social media thanks to a bold move by the New York Public Library.
The trailblazing library teamed up with ad agency Mother to create the aptly-named 'Insta Novels' -- so millennial, no? -- to bring full versions of famous texts to a whole new, digital-savvy audience.
And it's all completely free.
The books, complete with beautiful cover art, are posted in parts to the library's Instagram Stories, and are later archived in its highlights section, which is great news for slower readers (e.g. us!)
The first title to nimbly hop from page to phone screen was Lewis Carroll's children's classic, Alice's Adventures in Wonderland, on August 22. A fitting choice if you ask us, considering just how modern and ground-breaking Carroll's psychedelic story is.
Reading an Insta Novel is as easy as, well ... watching any other Insta Story. Tapping right turns the page, and tapping left takes you back to the previous page. Simple.
You've still got to hold your finger/thumb on the screen while you read, but they've even thought of that. There's a designated spot in the bottom right corner which means you won't obscure any of the words. Genius.
READ MORE: Listen Up: The Most Popular Audiobooks For Book Lovers Day And Beyond
Keep an eye out for the cute animations throughout the story, such as moving text or illustrations, which add a nice little something-something that your regular print book doesn't have.
Now we're not here to do the whole 'printed books are dead!' thing, nor are we anti-tech. If Insta Novels get more people, especially young'uns, interested in books then that's a win to be frank, because just like our Year 1 teacher said, reading rules.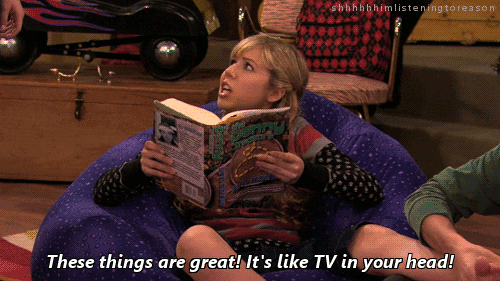 Stay tuned to NYPL's feed in coming weeks for additional titles including Charlotte Perkins' The Yellow Wallpaper, and Franz Kafka's groundbreaking novella The Metamorphosis.
Our hot tip? Watch out for other libraries taking up the Insta Novel challenge. Who knows, maybe soon we'll have a whole bookshelf in our Insta feeds.
Feature image: Getty.