KITKAT Celebrate New Gold Bar Like They're Willy Wonka
That's gold.
When it comes to KITKAT's newest creation, KITKAT GOLD, all that glitters IS indeed, well ... you see where we're going with that.
The glimmering bars offer a fresh spin on the much-loved classic KITKAT. Think creamy golden white choc-covered wafer fingers that carry you away on a deliciously caramelised break.
If this sounds like your jam, then you're in luck 'cause KITKAT are slinging a total of 16,000 free bars your way for two glorious days only.
Chocoholics in Sydney and Melbourne can pluck their very own bar of gold from a wall -- an entire wall! -- covered in the stuff at dedicated 'break zones.'
Not only that, just like Willy Wonka himself KITKAT have hidden a special Golden Ticket among their bars, with one of two amazing getaways worth up to $5,000 up for grabs.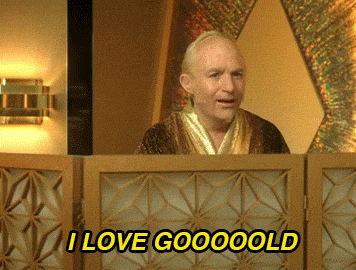 The gold rush begins in Sydney at Martin Place on August 30, and continues in Melbourne at Southern Cross Station on September 3, with the pop up break zones open from 8.30am to 2.30pm on both days.
If you can't wait 'til then, KITKAT GOLD is now available in grocery stores nationwide -- for a limited time only.
Feature image: courtesy KITKAT.