Four Easy (And Cheap) Ways To Make Your Home An Oasis Of Calm
In this cray-cray world, creating a zen home is the ultimate in self-care.
Our lives are crazy at the moment. We're busy, stressed and saturated with stuff, largely thanks to our addiction to screens (phones, tablets, watches et al.)
We're all aware of it, too -- it's pretty much the reason why the term 'self-care' has become the buzzword of 2018.
Face masks, meditation and a long soak in the bath are all popular ways to zen-out, but why not start caring for yourself as soon as you step inside your front door?
After all, retreating to a calm, relaxing environment at the end of a crazy day has to be one of the best ways to soothe a frazzled mind.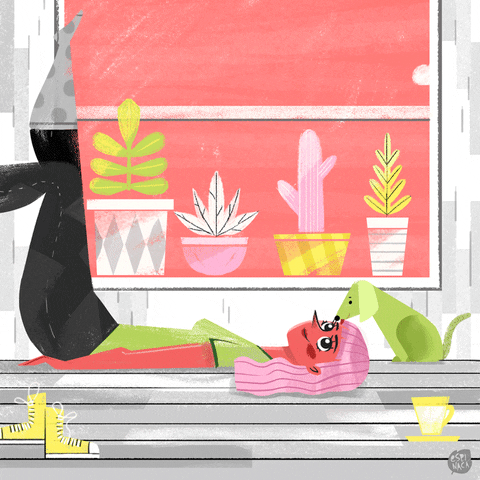 READ MORE: Move Over Ultra-Violet, This Is The Hot New Colour Trend For 2019
With over half of Aussies getting stuck into decorating their homes over the past year -- according to a study by Houzz & Home Australia -- the time has never been better to give your digs a calming makeover.
Vanessa Walker, who is the Australian and New Zealand editor at Houzz, said we can expect to see a new focus on wellness in interiors in 2019, with tactile, natural materials, soothing colour palettes, fuss-free furniture arrangements and a hefty dash of nature.
Going zen doesn't have to cost a bomb -- or mean you won't get your rental bond back -- either.
Here are Walker's tips for creating a calm home.
Curves
In 2019, it's all about comfort and relaxation.
"Sharp, minimalist lines in sofas and armchairs will be replaced with soft, soothing lines and furniture shapes that follow the curves of the body," Walker told 10 daily.
Give your room a curvy vibe without breaking the bank by popping a couple of affordable chunky, knotted cushions -- we found some for under $40 from Pillow Talk -- on the sofa or armchair, or adding a trio of rounded accessories in on-trend concrete or terrazzo to your coffee table.
Green
It was very much the year of the indoor plant in 2018, so it's little surprise that nature-inspired green is set to come to the fore in 2019.
"Greens will range from soft, chalky grey-greens through to rich, forest shades, all of which bring a touch of soothing nature indoors," Walker explained.
Green also provides a wonderful backdrop for accents of brights too, such as on-trend coral -- Pantone's Colour of the Year for 2019 -- and watermelon.
Walker's tip? Finish off the look with a medley of lush, indoor plants, which will also help purify the air inside your home and create a healthier atmosphere.
READ MORE: The 3 Furniture Essentials You Need To Set Up A New Home
Metallic accessories
Classic gold and rose gold were a popular choice in 2018, and at Walker doesn't see them going anywhere next year.
"These luxe finishes lift the spirits and are a perfect pairing with the season's chalky nature hues, adding an instant touch of glamour."
Smaller, more affordable pieces such as planters, bowls -- like this $10 one from Kmart -- and lamps in gold and rose gold are popular. The key is not to go overboard -- less is more when it comes to adding bling to a room scheme.
Perfectly imperfect
"The constant effort to be our best selves in any given moment is exhausting, and as a result, there will be a renewed appreciation for the imperfect and unique in 2019," Walker told 10 daily.
Incorporate this down-to-earth aesthetic into your home with natural, authentic materials, such as timber, stone and concrete in the form of vases, vessels, bedside tables and feature lighting.
Feature image: Getty.