Meet You At The Bar -- Someone's Just Invented Hangover-Free Booze
A scientist is developing a type of 'fake' alcohol that promises drinkers a boozy buzz but won't leave them drunk -- or hungover.
Professor David Nutt is the director of the neuropsychopharmacology unit at Imperial College London and has spent the past decade developing a synthetic alcohol substitute.
Called 'Alcarelle,' Prof Nutt told The Guardian that his creation has the potential to allow drinkers to enjoy alcohol without the side effects.
Yep -- that means no pesky hangovers or, on a more serious note, a potential end to alcohol addiction and alcohol-related cancers.
Alcohol is proven to increase your risk of seven different types of cancer including mouth, throat, oesophagus, stomach, bowel, liver and breast according to the Cancer Council of Australia.
Prof Nutt and his team have pinpointed the areas of the brain that can be stimulated by Alcarelle to give drinkers that boozy buzz without actually making them drunk.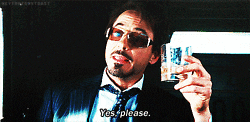 READ MORE: Wine Before Beer Or Beer Before Wine? Scientists Now Have The Hangover Answer
The aim is to develop a "peak effect," so no matter how much Alcarelle you consume, you won't get hammered.
Alcarelle might hit the market sooner rather than later -- within five years in fact -- but first it will have to be regulated as a food additive or an ingredient.
Jonny Forsyth, a global drinks analyst at Mintel said tht the fact that you can never get drunk on Alcarelle is an enticing marketing angle for younger consumers who see being healthy and in control as "cool."
"They don't want to end up on Instagram looking drunk; their manager might see that. Something that would automatically control their drinking would be very appealing," he said.
Non-alcoholic Aussie brews
Aussies certainly have a thirst for alcohol-free booze, particularly beer.
Non-alcohol beer sales in Australia have jumped 57 percent to $35.5 million over the last five years, according to recent statistics from Euromonitor International's Alcoholic Drinks in Australia report, that predicts the market will quadruple from two million litres in 2003 to 12 million by 2022.
In August 2018, 'Carlton Zero' -- Carlton & United Breweries' new alcohol-free beer that smells, sounds and even tastes like the real deal -- hit shelves in Australia.
It's a first for the brewery that will use the same ingredients in Carlton Draught to produce an alcohol-free alternative.
READ MORE: A Brewery Is Upcycling 'Ugly' Cornflakes Into Delicious Craft Beer
CUB said the move marks a "long-term shift in Australia's drinking habits", with low-to-mid strength beers now contributing to 20 percent of the company's sales.
In January the following year Far North Queensland man Clinton Schultz launched Sobah Badha Gali beers, a line of premium non-alcoholic craft beer flavoured with what the company calls 'bush tucker' ingredients.
Schultz -- who stopped drinking alcohol in 2014 -- started selling Sobah out of a food truck on the Gold Coast in December 2017 but is now shipping around 200 cartons a month.
Feature image: STX Entertainment.