J.Lo Is Taking Pole Dancing Lessons For New Film Role And Is 'Covered In Bruises'
Actor/singer/goddess Jennifer Lopez confessed she's learning to pole dance for an upcoming film role -- and it sounds like a major workout.
There's no denying that the "Ain't Your Mama" songstress is one hot mama. She's almost 50-year-old and looks as toned, fit and energetic as she's ever been.
Despite that, it sounds like the seasoned dancer may have met her match in the form of pole dancing -- something she's taken up to prepare for her role as a former stripper in the upcoming drama The Hustlers of Scores.
"It's very hard ... I have bruises everywhere," J.Lo told Jimmy Kimmel when she dropped by Jimmy Kimmel Live! on Thursday.
READ MORE: J-Lo Stuns In Racy Throwback To That Versace Grammys Gown
Based on the New York Magazine story of the same name the film follows a group of exotic dancers who get their revenge on their wealthy Wall Street clients by maxing out their credit cards after they've passed out.
As the group's ringleader Lopez needed to nail some hardcore pole dancing moves so she installed a pole in her house and hired an expert to teach her the ropes, so to speak.
"I have a girl who comes in and teaches me … It's a girl from Cirque du Soleil," she told Kimmel of her "fantastic" tutor.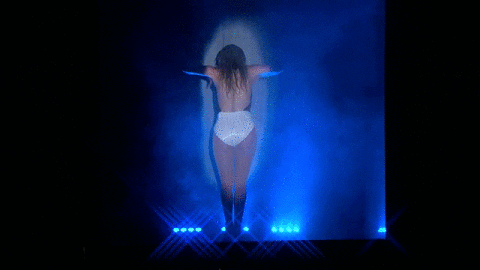 "I have a lot of respect for people who do the pole. It's, like, acrobatic. It's different muscle groups and the things they do with their legs, upside down, I'm like, 'What? I can't … hold on. Can we do that part again'."
So, Is Pole Dancing Really That Good For Your Fitness?
According to Jennifer Grace, who owns Pole Athletica in Surry Hills and told 10 daily that pole dancing is an "incredible workout."
"It's actually four workouts in one -- pilates, TRX Suspension training, weight training and it tones the body," she said.
In fact, it's such an effective form of exercise that one hour of pole a week will have you seeing changes more quickly than one hour of weight training, Grace explained.
READ MORE: J-Lo Rocked An Exposed Thong So We Guess '00s Fashion Is Back?
Grace isn't surprised that the ever-youthful J.Lo has taken up pole either.
"It's an amazing anti-ageing sport -- we see 50-year-olds who look like they're in their 30s," she said.
And yes, pole can be for everyone, even men -- if you have the right mindset, Grace said.
"Professionals make it look so easy but anyone can do it -- there's no age limit. Just don't put expectations on yourself and have fun with it," she said.
Feature image: Getty.