Warning: Don't Get 'Trapped' In Your Gym Membership
If you're looking to get in shape in 2019, learn how to not get caught up in unfair health club memberships.
Upping your fitness game is a hugely popular new year's resolution, with countless people joining gyms over the festive season.
Those aiming to get healthy in the holidays are being warned against rushing into unfair gym contracts, due to their inflexibility and confusing guidelines.
The NSW Minister for Better Regulation, Matt Kean, told 10 daily he wanted to ensure people "are happy and healthy in 2019".
READ MORE: Gym Opens Selfie Room So You Can 'Gram Your Guns In Private
READ MORE: Seven Things Trainers Wish You Wouldn't Do At The Gym
"Lots of people use the motivation of Christmas and the new year to start exercising, and gyms are an easy way to do that," he explained.
"It's timely to give some advice about what people should look out for, so they don't get trapped."
The number of complaints to NSW Fair Trading about health clubs and gyms decreased to around 400 in 2018, down from 547 in the previous two years.
The government agency has a detailed list of precautionary advice for people looking to join gyms in the new year.
Their tips include don't feel pressured by salespeople, carefully read the fine print, check if there's a cooling off period and consider a shorter membership.
"Don't just choose the cheapest option," the department bluntly warned.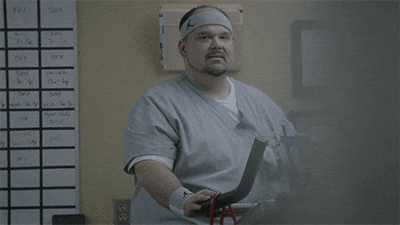 Sydney resident Julie Francisco was in the middle of a two-year membership she'd started at Christmastime when she found out she was expecting.
She told 10 daily she was "relieved" when her doctor told her the news because she could use it as a genuine reason to cancel her gym commitment.
"I signed up with the best intentions, but quickly lost interest after a short period," she described.
"When I told the manager I wanted to cancel he argued I could keep exercising while pregnant -- but I eventually convinced him I wasn't coming back."
Francisco's experience was relatively uncomplicated, however many become entangled in convoluted paperwork and simply give up on their mission to quit.
Kean -- himself a devotee of F45 Training -- said he'd heard "horror stories of consumers being locked into expensive 12 or 18-month contracts."
"They're stuck paying for a membership that doesn't do squat. Some gyms will treat you like a dumbbell and pressure you into a deal that's simply no good."
Fitness Australia can be contacted on 1300 211 311 to potentially help resolve local health club and gym membership issues.
Featured image: Getty.
Contact the author: samelia@networkten.com.au.