Study Finds Some 'Healthy Waters' Are Actually Alarmingly High In Sugar
You might think you're 'being healthy' by reaching for a bottle of fruit-flavoured water -- but you're not.
Sorry, we don't mean sound forceful, but this is serious.
A study conducted by LiveLighter -- a public health education campaign funded by Cancer Council Victoria -- found that some 'healthy' waters contain as much as 5.5 teaspoons of sugar per bottle
To put that into perspective, a can of coke contains around 10 teaspoons.
According to dietitian Alice Bastable, product advertising plays a huge role in the issue. "Often it's through the inclusion of health claims on the packaging of the product," she told 10 daily.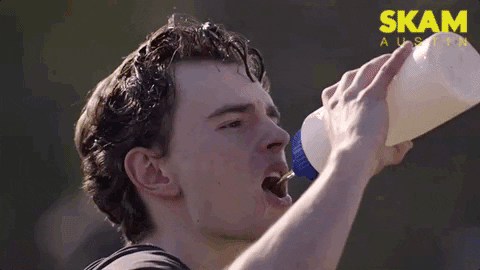 "We looked at 35 so-called healthy waters and found that 29 of them featured claims like natural, healthy or energised on the label when in fact they contained a lot of sugar," she said.
Bastable went on to say that claims like these can strongly influence someone's buying behavior . "People can be very heavily influenced by claims on nutrition labels," she said.
We know that people believe these claims and it can sway them
Worst Offenders
According to the study, not all healthy waters are created equal.
With 5.7 teaspoons of sugar per serve, H2Coco's 'Coconut water cocoespresso' was the worst offender, while Glauceau's 'Focus Iodine: kiwi and strawberry' vitamin water was a close second with 5.5 teaspoons of sugar per serve.
Bastable is quick to clarify that "coconut water has naturally occurring sugar in it" . But that's not the sugar they're concerned about.
"It's the products that have added sugars in them," she said.
Why It's So Worrying
Bastable doesn't mince words when she explains the dangers behind the high-sugar content.
"As a nation where 63 percent of our population is considered either overweight or obese we really don't want to be putting sugar into products that are sold as being 'healthy'," she said.
She added: "I guess our point here is that most Australians are already exceeding the World Health Organisation's guidelines on sugar -- so it's ludicrous that we need to be putting sugar in bottled water with health claims."
Healthy Alternatives
If plain old tap water isn't really your thing and you'd prefer to drunk something with a little more flavour Bastable has these recommendations.
"You can add in a slice of lemon or lime to help add some flavour," she said. "Or you can add some strawberries and a little mint for extra taste."
Feature Image: Getty