Why Tomato Sauce Is Probably Ruining Your Diet
All it takes is one tiny squirt.
Eating healthy can be bland. So, it makes total sense to add a dollop of sauce -- tomato, sweet chilli or even mayonnaise -- to add a bit of a flavour boost.
But, as it turns out, that little addition could actually be doing you a major disservice.
According to the nutrition experts at Equalution, one tablespoon of tomato sauce contains 54 calories. To put that into perspective here's what else you could be eating:
60 blueberries
1 cup of air-popped popcorn
2 marshmallows
2 squares of dark chocolate
1 cube of cheese
1 Oreo cookie
Yup, each of those snacks equates to 54 calories. The problem is many of us don't just stop at one squirt.
But the figures get worse.
A little dollop of sweet chilli sauce will load you up with 80 calories, while a squirt of BBQ sauce will set you back a whopping 104 calories. Sobering news if you're working hard at really measuring your food intake.
Sophie Bertrand, a nutritionist at Rhitrition, told The Sun that most of the calories in sauces come from their sugar content.
"Adding condiments to food can sometimes be the 'make or break' in regards to the meals flavour," she said. "However, some condiments contain a lot of added sugar and some people may be mindful of this and therefore seek alternatives to mix up their sauces."
READ MORE: It's The Condiment Invention We Didn't Know We Needed
READ MORE: Maccas Canada Debuts Aussie Burger And What The Heck?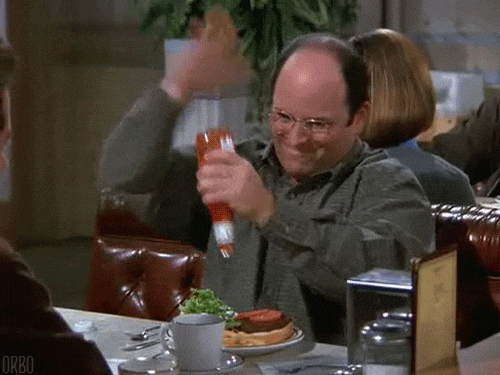 Instead, she's recommended that we "drizzle some olive oil and sprinkle some chilli flakes" to give our dishes some extra flavour.
Not convinced on the whole olive oil and chilli flakes tip? Don't stress.
Other ways to give your dishes a flavour hit
Tahini
Apple cider vinegar
Mashed avocado and spices
Greek yogurt
Lemon juice and salt
Pineapple juice, soy sauce and chilli flakes
Feature Image: Getty