How Meghan Markle's Yoga Moves May Have Changed Now She's Pregnant
Word is the royal mum-to-be and longtime yogi has been waking up early to hit the mat while on tour Down Under, but she's likely had to leave a few of her favourite moves behind.
Meghan has been saluting the sun -- that's a yoga pose FYI -- for many years now, having started practising with her yoga teacher mum, Doria Ragland, when she was just a kid.
"Yoga is my thing. My mom is a yoga instructor, and I started doing mommy-and-me yoga with her when I was seven," she said in an interview with Best Health magazine back in 2016.
She continued namasta-ing while filing the TV series Suits in Canada with celebrity instructor Duncan Parviainen, and often wrote about her love for yoga on her now-defunct lifestyle blog, The Tig.
The former actress is said to have favoured a type of cardio-heavy yoga called Vinyasa, and also dabbled in hot yoga.
Since confirming her pregnancy at the start of the Australian tour, the Duchess has admitted to waking up early -- as in 4.30am -- to practice, according to a fan who chatted with the royal at Bondi Beach on October 19.
Meghan reportedly likened her experience to having jet lag, and said she was doing yoga in her room when she couldn't sleep.
But the 37-year-old has likely scaled back her regular intense Vinyasa practice. She did pull out of all public engagements on day seven of her and husband Harry's huge tour Down Under in order to rest up, after all.
READ MORE: Royal Tour Down Under: Prince Harry Tours Fraser Island Alone As Meghan Takes A Break
Yoga teacher Louise Cooper told ten daily that toning things down on the yoga front at least is a good idea, as Vinyasa can be intense for pregnant women.
"Vinyasa is tough -- the flow is cardio-heavy and it involves a lot of core and so many chaturangas," said Cooper, who teaches at Earth & Sky Yoga in Sydney.
Regular yoga-goers will know the strength required to hold the body in the low plank that is the chaturanga pose.
"All strong core work should be avoided," Cooper advised, along with crunching actions, strong twists and anything that requires you to lie flat on your stomach.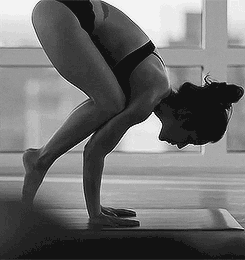 Cooper suggested that Hatha, a more gentle type of yoga, might be a better option for Meghan and other pregnant yogis.
Hatha tends to focus more on holding poses through several breaths as opposed to the fast-paced flow that Vinyasa demands, making it an ideal alternative for expecting mothers.
READ MORE: Prince Harry Spilled On Whether He Wants A Baby Boy Or Girl
Cooper did say that experienced yogis like Meghan are often able to incorporate parts of their pre-bump routine into their current practice. The golden rule is to avoid all types of yoga before reaching the 12-week mark, which happily she has.
It's safe to say that between her yogi expert mama and celeb instructors on speed dial, the Duchess has a wealth of advice on hand when it comes to her daily sun salutes.
Feature image: Getty