How To Transform Dry Skin For Summer, According To An Expert
Simples.
One of the toughest journey's our skin can go on is traversing the seasons. From summer to winter, to spring, and then back again, each season brings with it its own issues.
And now, after suffering through the dryness of winter, many of us are now moisturising like it's going out of style as we prep our skin for the warmer months.
But, believe it out not, there are other (easier) ways to get skin summer-ready that don't involve greasing ourselves up into a slippery mess.
We sat down with Bookwell's beauty and wellness expert, Brooke Benson, to get the lowdown on how to make like a snake and shed that winter skin.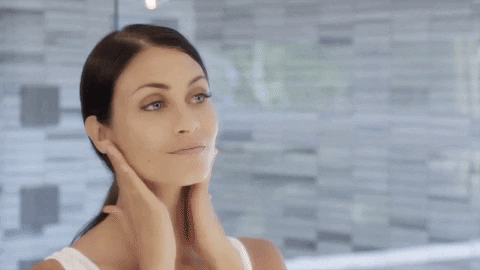 How can we help get rid of the winter dryness?
According to Benson, treatment isn't skin deep. "Dryness can be treated by what you eat, specifically, by adding extra fats to your diet. Healthy fats such as avocado, coconut, oily fish and extra virgin olive oil, which will help moisturise the skin and protect against dryness," she said.
"If your diet isn't doing the trick, it's time to leave your skin to the professionals. I'd recommend booking in a facial or body treatment that uses organic, natural ingredients via your local spa. Soothe your skin into summer with a hydrating plant enzyme facial, a cleansing clay mask or an exfoliating tangerine and bamboo body cocoon."
READ MORE: 6 Spring Beauty Essentials To Add To Your Makeup Bag Now
READ MORE: Kiss Dry, Wintry Lips Goodbye With This Beauty Pro's Top Tips
What's the main complaint people have about their skin going from winter to summer?
"As the summer gets warmer and stickier people often notice their skin becoming greasier than usual. This is because oil becomes trapped on the surface of the skin," she said.
"Switching to an oil-removing cleanser can make all the difference; look for products which contain salicylic acid. These products will give you a deep cleanse and leave your skin feeling fresh as a spring daisy."
What the one thing we need to get us through the seasonal change?
"Unfortunately, the seasonal change is rough on the skin, so we all need to invest in a probiotic-rich face mask or serum. This will help deliver good bacteria to the skin, soothe redness and irritation, as well as balancing and brightening the complexion," Benson said.
She added: "For those suffering from acne, rosacea or chronically-dry skin, probiotic skincare is absolutely essential."
READ MORE: Skincare Brand The Ordinary Shuts Down After Super Weird Video Post
You talk a lot about natural skincare -- why is it better for us?
"While your skin helps protect your body, it's also your body's biggest absorber. We've all heard the saying you are what you eat -- your skin is also what you decide to put on it," she said.
"Some chemicals found in skincare products can be quite harsh on the skin and can also be absorbed into the blood. Switching to natural skincare can help you avoid irritation, strange side effects and mean you are supporting products that are better for the environment.
"Avoid harmful chemicals, such as parabens and heavy metals, by swapping out daily use products such as shower gels, deodorants and shampoos."
Feature Image: Getty