Tooth Decay Has Now Become One Of Our Greatest Health Crises
And most of us are doing nothing about it.
Take Kendrick Louis for example. He's quite possibly one of the fittest men you will ever meet.
Let's tick off his achievements: He's a three time Australian Junior Ironman Champion, and he's an eight time Australian Gold Medallist and Coolangatta Gold Short Course Champion.
Impressive, right? Sure, but there was a time when no amount of training could help Louis overcome one of the most common health issues now facing Australians.
It all started one day after training when he was "feeling a bit peckish". So, he reached for "a soft, jelly snake" ... and that's when half his back molar came out.
"It was only a soft lolly, but when I bit into it I felt something in my mouth and as I pulled it out I realised it was half my tooth," he said.
That incident then lead to a series of dental visits which resulted in a root canal and several other fillings. "When I left the dentist he asked me what I was drinking and eating," Louis told ten daily.
"He nearly fell off his chair when he found out how many sport drinks I was having". It was an enormous amount by any standards. Louis said that once he "upped" his training, he was given the advice to drink "more than just water".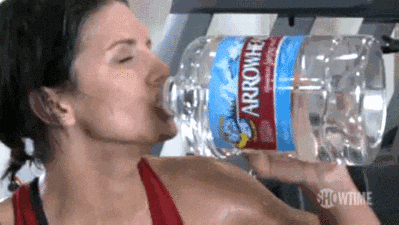 "So I started drinking a sports drink I got recommended," he said adding that sometimes he would down more than a litre per day.
Louis said the dentist's advice was not to go cold turkey, but rather to try and slowly limit the amount of sports drinks he was having.
"Then one day I forget my sports drink and I just had to train on water," he said. "But it was fine, the body adapts pretty quickly and I didn't end up getting that sugary comedown that you get."
The athlete estimates he's now chugging down up to four litres a day, and hasn't once felt or noticed a lack of hydration or energy since cutting out the sports drinks.
But that isn't the only benefit.
"My teeth are fine now," he said. "After that first visit I started going to the dentist every six months and they really started improving."
Louis story isn't unique. According to Colgate's Doctor Susan Cartwright dental disease is currently the most prevalent health problem effecting Australians.
"Sugar is the main contributor to dental cavities," she told ten daily.
"If we replace sugary drinks – such as sports drinks -- with water and the recommended two portions of fresh fruit daily, we're hydrating, decreasing the chance of becoming obese or developing diabetes and helping to prevent tooth decay."
Here are some of Dr Cartwright's best tips to avoid tooth decay:
Brush your teeth twice a day, for two minutes with a fluoride toothpaste
Reduce the amount of sugar you consume, and the frequency at which you consume it
Choose water over sugary beverages
Floss your teeth
Make sure you attend regular check-ups with your dentist