This Is The Top Reason People Quit Their Jobs
There are many factors that prompt people to throw in the towel when it comes to their job but now we know the main reason that workers walk thanks to employment site SEEK.
Poor management is employees' main gripe, attributing to 31 percent of decisions that say 'I quit', the data showed.
In second place is a lack of career progression which is the cause behind 26 percent of resignations.
Just over 20 percent of leavers claim poor working conditions and environment are what made them hand in their notice, closely followed by the need for a career change.
READ MORE: The 3 Questions To Ask Yourself If You Want To Change Careers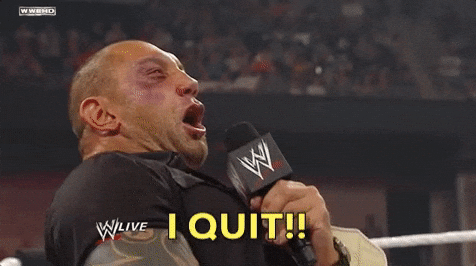 Younger staff admitted that it's a lack of development and progression that often drives their decision to leave, with 18 to 24-year-olds typically staying in a role for less than two years.
The study also found that better pay is the deciding factor for job seekers.
Sabina Read, SEEK ambassador and resident psychologist, said, "when it comes to making the decision to leave, many know what they're running from in their jobs, but few are able to articulate where they're running to."
"Unless we have a clear understanding of what really matters in our work and how to proactively move towards those goals, we risk finding ourselves in the same situation but just in a different location."
The best time to say goodbye
So, you're looking to hand in your notice but aren't sure of the perfect time to do so? Well, according to career expert and c-suite mentor, Amanda Blesing, there is no perfect time -- or age -- to change careers.
"Age is a mindset," she told 10 daily. "There is always time and opportunity to change careers."
Blesing thinks it's normal, if not healthy, to have between five and seven career changes over the course of one's working life.
"It's your appetite for risk and thinking outside of the square that's going to hinder or help you," when it comes time to look for a new role, she explained.
READ MORE: The Seven Bad Habits That Could Be Ruining Your Career
A successful career change also hinges on your skills set, but it's soft skills -- not hard ones -- that are becoming more and more prized by employers, according to Blesing.
Soft skills like agile thinking, emotional intelligence, negotiating, decision-making -- those are the things that make it easier for workers to trade and transition into a different career.
And don't stress about a less-than-perfect resume -- a varied job history, or out-of-the-blue changes, are by no means fatal flaws.
The key is owning your professional path and making it work for you.
"Take charge of your narrative, and avoid being defensive or apologetic," Blesing said.
Feature image: Twentieth Century Fox.