Meghan Markle Loses A Third Staffer After Her Female Bodyguard Resigns
Another one bites the dust as the Duchess' female bodyguard -- who hustled her out of a market in Fiji after a security scare -- reportedly handed in her notice.
The blonde Metropolitan police officer is best known for leaping into protection mode during Meghan's visit to Suva Market on October 24. The Duchess' bodyguard whisked her precious charge away following an alleged security issue.
The royal mum-to-be will now have to find a replacement for the staffer -- who is thought to be ranked as an inspector -- after she up and quit, according to The Sun.
READ MORE: Here's How To Tell If Your Colleagues Hate You.
The former actor's bodyguard barely lasted half a year in her role -- as reported by The Sunday Times -- and is the third member of staff to say 'thanks but no thanks' in the last two months.
It was revealed in November 2018 that the Sussex's private secretary, Aussie Samantha Cohen, will ship out after their baby is born in March.
The 49-year-old -- known as Samantha the Panther due to her feisty attitude -- has worked for the royal family for almost two decades and was assistant private secretary to the Queen for seven years.
Her Majesty reportedly asked Cohen to take on her latest role full-time but Cohen declined.
The second of Meghan and Harry's staff to leave was the Duchess' personal assistant Melissa Touabti -- she reportedly played a pivotal role in the couple's May 2018 nuptials but resigned just six months later.
Right royal rumours
It's not known exactly what's behind the mass resignations at the Palace but gossip is swirling around Meghan's demanding nature -- insiders say she bombards her staff with texts and calls in the early hours of the morning.
There might be some truth to the rumours.
Career expert Michelle Gibbings told 10 daily, "A number of people leaving at the same time can be an indication that there's something unhealthy about the work environment."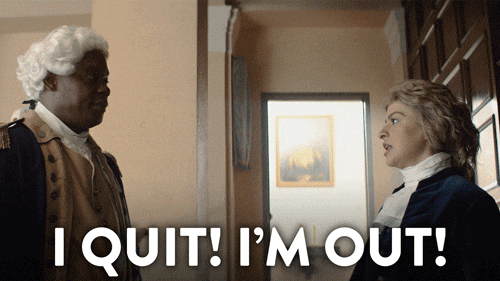 READ MORE: Why Do People All Quit Jobs At Once?
She explained that while a group of 'quitters' may have made the decision to quit independently, that "the instigation of the decision process to leave often arises at the same time."
The career coaches at Lighthouse.com said that there are many reasons people quit their jobs one after the other, the main being that if one person is unhappy, chances are others will be too.
Whatever causes someone to want to look for another job -- a bad manager, unworkable conditions, too much work -- is probably being experienced by others on the same team as well.
Take note, Megs and Haz.
Feature image: Getty.