Heaps Awks Chrissy Gifts You Should Never Give Your Colleagues
Ho ho NO.
Christmas is the most wonderful time of the year, but -- in the corporate world at least -- it's also a time fraught with potential faux pas.
No, we're not just talking about the office Christmas party, although that's a goldmine for awks situations.
Along with the yearly festive knees-up that forces inter-departmental mingling comes another tradition that can strike fear in the hearts of staffers across the country.
Giving co-workers Xmas gifts.
Whether it's a group gift for someone in your team, an individual gift to your boss or a Secret Santa/Kris Kringle situation, there are certain pressies you should -- and shouldn't -- give.
Ali Linz, co-founder of online gift-giving platform GroupTogether, knows a thing or two about picking the right present for everyone on your list, including Karen from Accounts.
READ MORE: 13 Gifts For Anyone Crying Out For A Good Night's Sleep This Christmas
"You don't really know what somebody else wants," Linz told 10 daily, which is the root cause of most gift-giving fails.
"The main thing is to avoid anything really embarrassing," she said, so step awayyyy from that santa-themed g-string.
But believe it or not, in Linz's experience, people still do give really personal things which can lead to really uncomfortable chats in the tea room.
Here are Linz's top tips for what not to give your colleagues at Christmas:
Lingerie
No lingerie, no clothing, no underwear -- even if it has Homer Simpson on it -- just no. It's too intimate a gift for someone you work with. Save it for your besties.
Bath and beauty products
Gifts like body wash and lotions, personal hygiene gadgets -- nose hair trimmers! -- and gift certificates to hair salons all scream 'you could be better!' and that's not something you want your colleagues to hear. From you, at least.
Ditto perfume and scented candles. You're not their significant other, and you also don't know if they're allergic to fragrance.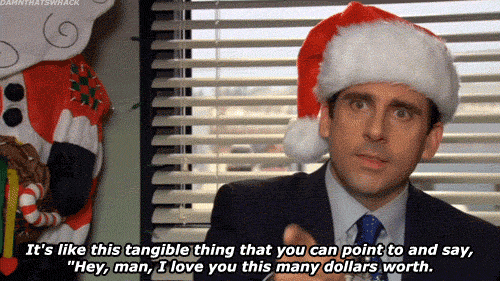 Gym memberships
A gym voucher or membership, or even something as innocuous as a spray tan voucher, can make the receiver feel a bit crap as it suggests that they need to slim down, get in shape and look hotter.
A day spa retreat -- that focuses on relaxation, not diet or exercise -- or a glamping weekend are okay, but often is better to be safe than sorry. You want to make them feel good, not insecure.
READ MORE: 13 Gifts To Get Blokes This Xmas That Aren't Socks Or Jocks
Jewellery
Necklaces, bracelets, rings ... no matter how affordable or exxy they are, it's all too romantic. Are you trying to woo them? No, that'd be creepy.
Corporate crap
Please do not recycle the corporate give-aways sitting on your desk or filing cabinets, such as T-shirts, coffee mugs, stress balls or other branded items. It just looks cheap and you will too.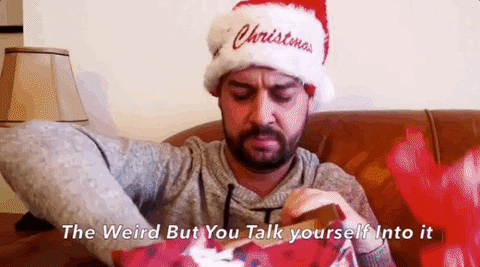 Gag gifts
That Santa-themed g-string, whoopee cushion and inflatable penis are best left at the dollar shop where they belong. Your boss might crack a smile, but they're dying on the inside. Trust us.
'Useful' things
Don't go so conservative that you end up opting for something domestic and boring like a toaster. No-one wants to be reminded of their ho-hum breakfast.
If you yourself are on the receiving end of a less-than-impressive or totally awks gift then Linz has some tips to avoid the telltale #giftface.
"You just have to be gracious, and say, 'wow that's so nice of you. Acknowledge the gesture for what it is, which is a genuine sense of wanting to please."
So, now we've blown all your gift ideas out of the water and basically ruined Christmas, is there any good news?
READ MORE: Cat Owners Rejoice Because There's Now A Special Xmas Tree Just For You
Well, yes. If picking the right gift for someone is too tricky, just let them pick it themselves. A gift card or something similar that will allow people to pick their own gift will work a treat.
Now that's a Christmas miracle.
Feature image: Getty.